Movie Review: Walk the Line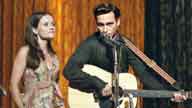 I really feel sorry for Vivian Cash. Yes, I know Walk the Line is only a fictional film based on real people and events. I also know that the main plot of the film is the evolving love story between Johnny Cash and June Carter. Furthermore, I realize that to make that love story interesting there needs to be obstacles placed in the way of those two main characters. But why did they have to make Vivian such a major, Grade-A bitch?
Generally, I would expect more from writer/director James Mangold. He's usually pretty good at putting interesting spins on traditional material like in Cop Land and Identity. Hell, I even enjoyed his time-travel romantic comedy Kate & Leopold, which put interesting obstacles in the paths of two very diverse people who eventually fall in love. So, I don't know why he resorted to such a simple characterization of Vivian, especially since she's a real person.
That's why I feel sorry for her. Here she is immortalized on the big screen as being one of whiniest, naggingest bitches who ever walked the Earth. I haven't read Cash's autobiography, which the film is based on, but I can't believe he would have described his first wife as being thoroughly rotten. I'm sure Vivian pressured Johnny somewhat to find a "real" job before hitting it big, that his constant touring was a stress on their marriage, as was the open flirting with June Carter. But is that all they ever talked about? Weren't there any sweet moments between these two? Even when he cuts his first album in the film, she acts only mildly interested.
Although I'm being extra harsh on this point, I don't want to sound like I didn't like the film because I did. James Mangold the screenwriter may have disappointed me, but Mangold the director didn't. Going into the film, I really didn't know anything about Johnny Cash and I've only ever been vaguely familiar with his music. His entire story was new to me. So even though most of that story was pretty basic — raised by an abusive father, married too young, degenerates into self-destructive drug use — Mangold keeps the action moving along at a brisk pace punctuated with lively and powerful musical numbers.
The best part of the film is when Cash tours the south with other rockabilly musicians of his era: Elvis, Jerry Lee Lewis, Roy Orbison and, of course, June Carter. I had no idea Cash hung out with those guys and I think Mangold was smart to cast non-famous actors in the other musical parts. It's already a stretch to accept Joaquin Phoenix and Reese Witherspoon as Johnny and June, so then you're not distracted with the other parts going "Hey, that's So-and-So as Elvis." You just believe they're who they're supposed to be, leaving Joaquin and Reese in center stage.
And those two dominate the film. Unsurprisingly, Joaquin delivers a knockout performance not just as Johnny Cash, but as a musician who evolves from humble beginnings to a successful man torn by his own lack of confidence and a desire to stay true to his wife even while the marriage is crumbling around him. But Reese, too, is exceptional in the film. I'm usually turned off by the movies she chooses to star in, like the Legally Blonde films and Sweet Home Alabama, none of which I've seen. Here, though, she gives a wonderfully complex performance like she did in her breakout film Election: Bright and sunny on the outside with deep emotional pain from which she draws her strength.
With these two outstanding performances and the amazing music really driving a terrific film, it's a shame the weak relationship between Johnny and Vivian kind of drags the movie down. Overall though, it's a pretty successful film.