Waiting For NESARA: Now On DVD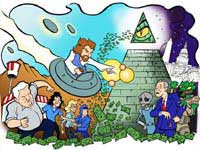 You know how I picked Zeb Haradon's excellent documentary Waiting for NESARA as the Underground Film Journal 2006 Movie of the Year and you were really dying to see it, but didn't know where it was available? Well, it's out now on DVD at Amazon. (UPDATE: It's now also streaming on Amazon.) And for those of you who missed my previous praising of the film, here's my brief description of it:
The NESARA referred to in the title is a bizarre cult that believes that George W. Bush is a space alien preventing the return of Jesus Christ in his spaceship to save us all. But not in a glorious Second Coming kind of way, Jesus is just going to get rid of the IRS and make sure all of us have a couple of extra bucks in our pocket.
It's an amazing, mind-boggling film about a unique group of folks. Please, go check it out. (UPDATE: Also streaming on Amazon.)