Vote Sparrow!
Has the election got you down? Too much back-and-forth, too many facts to sort through? What we need is a dude who's going to tell you he has a radical plan to shake this country up in very clear and simple language. That man, may or may not be, Sparrow.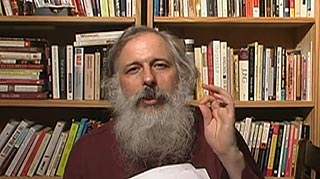 Now, this is a guy with a load of experience. Experience at running for president. This is his fourth time throwing his hat in the ring and despite thinking he might be burned out by this point: Forget it, he's going to be the most dynamic candidate out there. The dynamism from this guy is palpable. He's got the energy and, even better, he's got the body moves down pat.
And Sparrow wants you to know one thing: Don't vote for him. For God's sake, don't do that. But, please listen to his message in his first campaign video embedded above, in which he tells us his radical new plan to fix immigration reform. It's bold, it's daring and you better listen to what he says, you moron.
Find out more and watch more videos at the Sparrow For President website.
(Video from the fine folks at Rumur Inc.) (i.e. Michael Galinsky)