Visionary Film: The American Avant-Garde, 1943-2000 (Third Edition)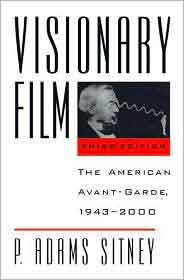 Last spring and summer I got on a kick reading classic film books on the history of underground film. My little mini series of posts include write-ups on Midnight Movies by J. Hoberman and Jonathan Rosenbaum; Movie Journal: The Rise Of The New American Cinema 1959-1971 by Jonas Mekas; Underground Film: A Critical History by Parker Tyler; and Sheldon Renan's An Introduction to the American Underground Film.
I'm trying to get back into that game a little bit, so I recently picked up Visionary Film by P. Adams Sitney. What attracted me mostly to this book is that while my previous readings focused primarily on the '60s, I thought this one — because of the years in the title — would give me some insight into underground film after that era. Right now I'm mostly interested in what was happening in the '70s since I'm having trouble finding books about that. The bad news is that Visionary Film didn't help me out as much as I wanted in that area. The good news is that it's a great book regardless.
The weird thing is that academic books on film can make my brain hurt. I'm much more attracted to "fannish" type writing on movies, like those books I read by Jonas Mekas and Sheldon Renan. And Visionary Film is an extremely academic film book. And yes, my brain hurt a little reading it. However, although Sitney writes in a very high-falutin' manner and gets deep into film and artistic theory, his fannish enthusiasm for his subject still comes out through his writing, which I found very engaging, albeit slow going since I'm not a scholar on the avant garde and I frequently encountered concepts I was previously unfamiliar with.
Sitney also cites as his influence — spiritual and otherwise — Parker Tyler, which frightened me at first because I really didn't like that guy's book. Sitney approaches the avant garde genre in much the same way Tyler did, but I found Sitney's elaboration on the evolution of the avant garde from The Cabinet of Dr. Caligari to Un Chien Andalou to Maya Deren's Meshes of the Afternoon much more readable, engaging and enlightening.
Also like Tyler, Sitney seems very nostalgic for the past, spending a lot of time discussing Deren, her films and her theories, both on her own terms as well as her influence, and non-influence really, on future underground filmmakers. When discussing specific filmmakers, too; such as Kenneth Anger, Stan Brakhage, Sidney Peterson and Gregory Markopoulos; Sitney does a great job describing their specific works, but also how each filmmaker tied into the evolution of the avant garde stylistic periods, from the trance film to mythopoeia (still don't know how to pronounce that) to structuralism. However, there were times when Sitney was describing films I hadn't seen in too much detail that I got frustrated with a little bit, but other times when he offered interpretations of movies I was highly interested in, e.g. Dog Star Man and Scorpio Rising, I found the over-detailing fascinating.
Originally published in 1974, it's clear why Sitney focused so much attention on the history of the avant garde with the book mostly wrapping up with the structuralist film movement of the late sixties, which Sitney interestingly claims was inspired/launched by Andy Warhol. We get, of course, details on the work of Michael Snow and Paul Sharits, as well as George Landow and Hollis Frampton.
At the end of the new edition, I kind of get to see why Sitney doesn't focus too much attention on the '70s. The chapter called "The Seventies" starts out:
Nothing like the peaks of excitement which had occurred in 1963 or 1968 was to be repeated in the subsequent decade.
Well, there you go.
I also think Sitney's coverage of the avant garde actually ends in 1991. The last film I find mentioned is Ernie Gehr's Side/Walk/Shuffle, which was released in that year. The write-ups on the '70s, '80s and '90s are mostly concerned with the continuation of the careers of all the filmmakers I mentioned above, plus Yvonne Ranier. Actually when I was a freshman in film school at RIT, Ranier came to campus to screen Journeys From Berlin/1971, but I was way too young and inexperienced in the avant garde to fully appreciate at the time. But reading this book makes me want to see it again. The book also makes me want to check out a whole slew of filmmakers I'm still unfamiliar with except by name when I keep reading them in these damn books. For that, Visionary Film was an extremely successful and rewarding read and up there with some of the other classics I mentioned up top.