Usama Alshaibi's Profane: The Trailer
Master of transgression Usama Alshaibi is still currently finishing up his latest feature film, Profane, but he's already unleashed a haunting trailer for it, which is embedded above. The film tells the story of a faithless Muslim sex worker who loses her Jinn, a fiery spirit or demon, and desperately wants to win it back to feel connected to her lost heritage. If you like the above trailer and want to help Alshaibi out to complete the film, he's currently raising finishing funds via Kickstarter.
I'm an unabashed fan of Alshaibi's work, which has been clear for several years here on the Underground Film Journal, but I'm really excited to see this new film, which combines so many of this unique filmmaker's interests.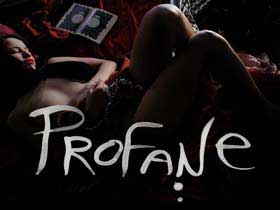 Alshaibi is perhaps best known for his award-winning documentary Nice Bombs, in which he traveled back to his home country of Iraq in 2003 after being absent for over twenty years. Nice Bombs is one of the very few films to show the direct effects of the Iraq war on that country's beleaguered citizens and perhaps the only film to capture that on such an intimate level.
However, Alshaibi is also quite well known for his erotic portraits of women, many of which are collected on the DVD Solar Anus Cinema. These films are quite intimate, too, but on a whole 'nother level, confronting audiences with controversial notions of beauty.
Solar Anus Cinema: Amazon
Although the above trailer only gives us a glimpse at Profane, the film does appear to contain the sexual elements — as well as the bright, oftentimes garish color palate — found in Solar Anus Cinema as well as notions of identity, particularly Muslim identity, that marks Nice Bombs.
It looks to be an exciting film and, please, if you can help Alshaibi out, please do at the Kickstarter site, which is really a terrific site for filmmakers in need of funds — which is, of course, just about every filmmaker on the planet. According to how much you donate, Alshaibi has set up several different rewards. But the real reward is just supporting somebody making unique, challenging films. Donate.