Short Film: Usama Alshaibi's The Foreigner
*Smack* That's a light slap on the wrist to Usama Alshaibi for not posting to his blog enough since launching it last month. But, he nearly makes up for his negligence by recently posting up his great short film The Foreigner the other day, which you can watch embedded above. A word to the wise: The above video is way, way NSFW, unless you're looking to get fired quickly.
(Also, to be fair, most of my filmmakers' and film writers' blogs have been mostly dark this August, especially after I set up a Google Reader account and everything.)
While there's lots to love about The Foreigner, especially just the sheer insanity of the whole thing, I'm particularly taken by the colors in the piece. Shot with an extremely garish pop art color palette, there's not one frame or part of a frame that looks like the film takes place in reality.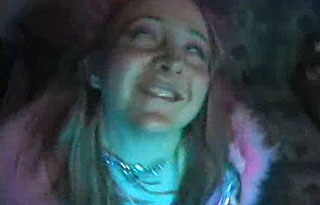 It somewhat reminds me of that old Star Trek "Mirror, Mirror" episode that takes place in an alternate dimension where all the characters are the same, but everything is slightly off visually in a slightly darker grain, making the procedings all that more darker and ominous. Even though The Foreigner starts off in a carefree vein, there's still the promise that something terribly disturbing is looming on the horizon and, like most of Alshaibi's work I've seen recently, there's a totally nightmarish payoff at the end. The climax to this particular film is probably the single most terrifying thing I've seen from him yet, where I was literally afraid for one of the actors.
According to Alshaibi's blog, this film was made back in 2000, but it has a very modern feel to it. At the same time, while most of Alsahibi's work has a transgressive vibe, out of all I've seen by him this particualr film is in the classic Cinema of Transgression tradition. I think that's mostly due to the manic energy of the piece. However, also the actress named Camera Climaxx — probably not her real name — looks strikingly similar to Nick Zedd ingenue the Reverend Jen (sans elf ears) as well as Richard Kern poster girl Lung Leg. Climaxx dancing with a giant red-white-and-blue motorcycle helmet on her tiny head with the plastic facemask down is one of my favorite images in the film. Again, while all the elements in the shot are from the real world, combining them with the freaky lighting and camera angles makes her look like a creature from another world.