Poultrygeist Rocks Boston
1) Poultrygeist: Night of the Chicken Dead may be available on DVD, but — like the best of Troma — it was made for a midnight movie screening. Which is exactly where you can go see it if you live in the Boston area! It will be playing at the Coolidge Corner Theatre on Harvard St. in Brookline, MA on Friday and Saturday, Feb. 6-7 at Midnight. Plus, best of all, director Lloyd Kaufman will be in attendance with probably some Tromettes on his arm and the Toxic Avenger by his side. And when Lloyd shows up at a screening, it's a party.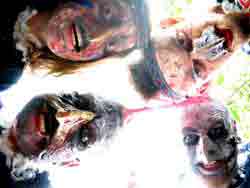 I saw Poultrygeist myself on a bright and sunny Los Angeles afternoon and absolutely loved it. It was the best musical about zombie chickens I've ever seen. The film is truly Kaufman's tour de force. The musical numbers are extremely catchy, loads of it is hysterically funny and the gore, as one would expect, is completely over-the-top and revolting. Plus, Kaufman manages to inject some good social and political jabs into the chaos. At a jam-packed — or even a half-packed — midnight screening, this film would be a blast. And this one will most likely be totally jammed.
Feb. 6-7
Midnight
Poultrygeist: Night of the Chicken Dead, dir. Lloyd Kaufman
Coolidge Corner Theatre
290 Harvard St.
Brookline, MA
2) Rona Mark's Strange Girls was one of my favorite films of 2008 and those of you in the Bay Area can be spooked by it on Sunday, Feb. 8 at 9:30 p.m. when it screens as part of the 11th annual San Francisco Independent Film Festival. This was one of the most original horror films I've seen in a good long while about two demented twin sisters with a sick and twisted relationship. The film is very dark and creepy and has an utterly disturbing black humor. It's brilliant. (Strange Girls is also now streaming online)
The film will be screening at the Roxie Theater. You can check out the SFIndie official site for more info.
Feb. 8
9:30 p.m.
Strange Girls, dir. Rona Mark
Roxie Theater (part of SFIndie)
3117 16th St.
San Francisco, CA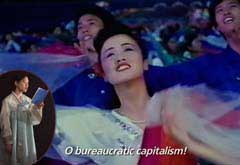 3) While I haven't seen Jim Finn's The Juche Idea myself — and I'm a little annoyed I haven't — it does come with an impressive underground pedigree and is screening as part of the Flaherty Seminar at the Anthology Film Archives on Monday, Feb. 9 at 7:30 p.m. First, it was the closing night film of the final New York Underground Film Festival, then went on to win the Best Narrative Feature award at the Chicago Underground Film Festival. "Juche" is the official philosophy of North Korea and it roughly means "self-reliance." The film tells the story of a South Korean video artist who moves to the North and embraces the "Juche" to incorporate into her work.
Feb. 9
7:30 p.m.
The Juche Idea, dir. Jim Finn
Anthology Film Archives
2nd Ave. and 2nd St.
NYC, NY