Iraq Short Films In San Francisco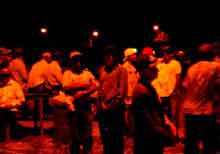 I've received a whole bunch of interesting screening notices from Northern California and Australia, so I thought I'd consolidate them into one post. Here you go:
9/25
8:00 p.m.
San Francisco, CA
kino21
Iraqi Short Films, dir. Mauro Andrizzi. This is the opening salvo in kino21's fall "How We Fight" program, a series of films from the POV of the those on the ground in warzones. For this first film, Andrizzi has compiled all kinds of videos from the current Iraq war that have been created by U.S. and British soldiers, Iraqi militia members and corporate workers. Get the multifaceted perspective on the war you can't really otherwise see via traditional media outlets. I'll also list future "How We Fight" screenings as they get nearer. Click for more info.
9/26
7:30 p.m.
North Perth, Australia
Cinema in a Cave
Immokalee, USA, dir. Georg Koszulinski. This is a must-go-to event for all Australians. (I know it's a big continent, but try.) Immokalee is one of the best films I've seen this year and it's a beautiful, sad, moving, heartbreaking and inspiring documentary. Koszulinski chronicles the lives of several immigrant workers living in Immokalee, FL, from those working in the fields, their wives and one unfortunate soul who can't get a job. Plus, we get to visit with some of the people who try to help the immigrant families out. This is a mostly verite doc that works on so many levels. Seriously, read my original review of this amazing film then go see it.
Screens with Jisoe, dir. Eddie Martin.
Click for more info.
9/27
6:10 p.m.
Berkeley, CA
Berkeley Video & Film Festival
Bob, dir. Waylon Bacon. The BVFF is running Sept. 26-28, but at this particular time you can go see one of Bacon's frightfully disturbing short films. You can read all about me falling love with Bacon's work in this recent post. Bob is a very simple film, but I can only imagine it playing really well with an audience. If you're in Berkeley, check out the festival lineup and see what you can there, but definitely don't miss Bob.
Click for more info.
9/28
5:05 p.m.
Berkeley, CA
Berkeley Video & Film Festival
My Worst Nightmare, dir. Waylon Bacon. This is his second film at BVFF.  Based on a real nightmare by the director. (Watch online)
Click for more info.