Unshown Cinema: The Animated Films That Got Away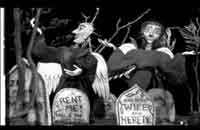 I'm mostly posting this up because this three day L.A. fest showing little seen animated films — both features and shorts — is showing my friend Lisa Barcy's amazing The Guilt Trip, which also played at this year's Brooklyn Underground Film Festival. This is a beautiful and haunting stop-motion animation piece about Jesus and Mary Magdalene's wild road trip while escaping from the Vatican. It's a really fantastic film.
But also of interest to me is three animation pieces by Nina Paley, who's Nina's Adventures comics I used to love. Unbeknownst to me, Nina is now an animator and Unshown Cinema will be playing two excerpts from Nina's feature-in-progress Sita Sings the Blues and her short film Pandorama. I'm anxious to see what Nina is up to these days.
Unshown Cinema will run September 22-24 at the American Cinematheque's Egyptian Theater in the heart of Hollywood, which is really one of the best theaters in all of Los Angeles.
Here's the full Unshown Cinema lineup:
Friday, Sep. 22:
7:30 p.m.: "Dangerous Visions: Animated Shorts For Connoisseurs & Grown-Ups," a collection of shorts including the terrific Guilt Trip, Nina Paley's work, Igor Kovalyov's Milch, J.J. Villard's Son of Satan (based on the work of Charles Bukowski), Stefan Schaffler's The Peri-Wig Maker, Federic Back's Oscar-nominated All Nothing, George Griffin's A Little Routine and Mike Overbeck's Atlas Takes A Drink. Lisa, J.J. and Igor will be on hand for a Q&A afterwards.
Saturday, Sep. 23:
7:30 p.m.: Two French feature-length films: Raining Cats and Frogs, dir. Jacques-Remy Girerds. A retelling of the story of Noah's Ark, but recast with all amphibious creatures. Then, The Table Turns, dirs. Paul Grimault and Jacques Demy. This is a compilation of Grimault's best work where the director himself walks the audience through his animations.
Sunday, Sep. 24:
7:30 p.m.: Whisper of the Heart, dir. Yoshifumi Kondo. Written and produced by the legendary anime master Hayao Miyazaki (known in the states mostly for the hit Spirited Away). A shy teenage girl befriends a magical cat who shows her all the wonders that life has to offer. Whisper of the Heart is the only film directed by Kondo, who tragically passed away in 1998 from a brain aneurysm. The film was released in 1995.
For more info and advance tickets, please visit the Unshown Cinema page at the American Cinematheque website.