UnionDocs: Shirley Clarke Tribute
Jan. 30
7:30 p.m.
UnionDocs
322 Union Ave
Brooklyn, NY 11211
Hosted by: UnionDocs
Shirley Clarke was an early force in the New American Cinema movement back in the 1960s, directing several underground feature films and shorts. For this event, there will be a screening of her short experimental film Bridges-Go-Round, plus the feature-length documentary Shirley Clarke in Our Time, directed by Donna Cameron, an associate of Clarke's in the late '80s.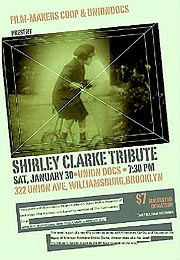 In addition to the films being screened, there will be a live discussion with Cameron, plus filmmaker and friend of Clarke's Jonas Mekas; and film critic-programmer Cullen Gallagher.
Here's a little bit more on the films being screened:
In 1958, Clarke was one of several filmmakers commissioned by the State Dept. to produce short films to be screened at the Brussels World's Fair. Bridges-Go-Round was assembled from leftover footage from that project. Although it's typically said that one cannot dance to architecture, Clarke's short film is a visually abstract jazz riff on bridges leading into and out of Manhattan.
Clarke also initially commissioned avant-garde electronic musicians Louis and Bebe Barron to compose the soundtrack. (The pair previously did the music for the Leslie Nielsen starring sci-fi flick Forbidden Planet (1956).) However, due to a potential rights snag to that music, Clarke also commissioned jazz musician Teo Macero to do an alternate score. When the original music rights snag thankfully never materialized, Clarke would just show the film with both scores back to back, as they will be screened tonight.
In 1987, Clarke invited filmmaker Donna Cameron to collaborate on a collage autobiographical film. Clarke had kept old black & white home video footage her mother had shot during Clarke's childhood, which would be combined with other recycled imagery. Plus, Clarke's daughter Wendy contributed family photos to be included in the finished avant-garde documentary, Shirley Clarke in Our Time.
Watch the trailer for Shirley Clarke in Our Time: