Underground Film Yearbook: 1974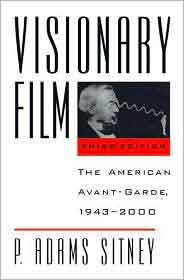 This is the fourth entry in my series of the underground film scene of the '70s. You can follow the series here.
The biggest underground film event of 1974 was the 5th International Experimental Film Competition Knokke-Heist, Belgium; also known as EXPRMNTL 5. This was the final edition of one of the biggest, if not the biggest, showcases of experimental and underground films in the world. It was not an annual event and the previous edition had run seven years earlier in 1967. The 5th edition began on Christmas Day and ran until Jan. 2, 1975.
Unfortunately, I haven't been able yet to track down a full listing of filmmakers who screened during the competition, but some of them are: Lois Siegel, Raphael Bendahan, Bill Brand, Victor Faccinto, Coleen Fitzgibbon, William Raban, Anthony McCall, and Ernest Gusella.
The competition had diminished somewhat in prestige since it's previous edition. According to avant-garde cinema critic and historian P. Adams Sitney, this was due to better screening opportunities for American underground filmmakers in their home country. Canyon Cinema and the Film-makers' Cooperative were both in business and distributing films to universities and other alternative screening venues. Knokke-Heist was no longer the unique screening experience it once had been.
Speaking of P. Adams Sitney, '74 was a huge year for him, too. His essential book on underground cinema, Visionary Film: The American Avant-Garde, was published for the first time. Filled with invaluable research, history and analysis, the book would have two subsequent updatings, first in 1978 and again in 2000.
Two other major underground film books were published for the first time in '74. First, was Film As a Subversive Art by Amos Vogel. While Vogel didn't concentrate on the underground in his writing, he previously had founded and run Cinema 16 in NYC with his wife for sixteen years, which was one of the major experimental film exhibition spaces in the world. After closing up Cinema 16, Vogel co-founded the New York Film Festival.
Also first published was Stargazer: Andy Warhol's World and His Films by Stephen Koch, which would be the first and one of the few books on Warhol that focused heavily on the artist's filmmaking career.
In the midnight movie arena, John Waters followed up his smash hit Pink Flamingos with Female Trouble, which personally is my favorite Waters film. I'm not 100% positive since I haven't seen Waters' earliest shorts, but I think this film was the first time Divine ever appeared on film as a man. Also, future midnight movie phenomenon David Lynch directed the short film The Amputee in 1974, which he made after funding for Eraserhead had dried up. Plus, Paul Morrissey directed the second of his trashy European horror flicks: Andy Warhol's Dracula.
Below is the list of films that I compiled with an official release date of 1974, organized alphabetically by director's last name. This isn't meant to be a complete list, but just what I could find so far mostly on the Canyon Cinema and Film-makers' Cooperative's online catalogs. However, I've also started to use the Video Data Bank as a resource, too, plus other random info I've found on the web. If anyone has a film to add, along with proof of year of completion, please leave a comment below.
Le Ann Bartok: Skyworks, The Red Mile
James Benning: 8-1/2 X 11
Jerry Bloedow: Songs of Lewis Wadhams
Power Boothe: Match
Stan Brakhage: Aquarien
Clancy
Dominion
Flight
"He Was Born, He Suffered, He Died"
Hymn to Her
Skein
Sol
Star Garden
The Stars Are Beautiful
The Text of Light
Bill Brand: Rate of Change: Acts of Light Part 1
Angular Momentum: Acts of Light Part 2
Circles of Confusion: Acts Of Light Part 3
An Angry Dog
It Dawn Down
The Central Finger
Before the Fact
James Broughton: Testament
James Cagle: Excavation
Metonic Cycles
Roberta Cantow: Rites of Passage
Elliot Caplan: To Station
Doris Chase: Moon Gates III
Rocking Orange III
Sculpture for Children
Tall Arches III
Tom Chomont: abda/Rebirth
Tony Conrad: Film Feedback
Sharon Couzin: Roseblood
Eduardo Darino: Process
Wheeler Winston Dixon: Waste Motion
Tightrope
Stargrove
Gaze
An Evening With Chris Jangaard
Dana Can Deal
Damage
Mike Dunford: Logical Propositions
Stephen Dwoskin: Behindert (Hindered)
Jeroen Eisinga: Grey Zone
Claudine Eizykman: VW Vitesses Woman
Victor Faccinto: Shameless
Ken Feingold: Subject
Guy Fihman: Ultra Rouge Infra Violet
Holly Fisher: Apple Summer
Coleen Fitzgibbon: Fm/Trcs
Bob Fleischner: David
Nora
Simone Forti: Three Grizzlies
Terry Fox: The Children's Tapes
Hollis Frampton: Autumnal Equinox
Drafts & Fragments Straits of Magellan
Ingenivm Nobis Ipsa Pvella Fecit (Was Vernal Equinox) 2 Reels
Noctiluca (Magellan's Toys: #1)
Summer Solstice (Solariumagelani)
Winter Solstice (Solariumagelani)
Hermine Freed: Art Herstory
Show and Tell
Roberta Friedman: The Making of the Americans
Merrick Gagliano: See Tom Run
Dave Gearey: Airwaves
Once Again
Peter Gidal: Film Print
Frank Gillette: Muse
Bette Gordon: I-94 (made with James Benning)
Victor Grauer: Book of the Year Three Thousand
Nancy Graves: Reflections on the Moon
Amy Greenfield: Dialogue for Cameraman and Dancer
Vincent Grenier: Shut Up Barbie
Ernest Gusella: Video-Taping
Julie Gustafson: The Politics of Intimacy
Walter Gutman: Benedict Arnold
Bolex
Howard Guttenplan: European Diary '74
N. Y. C. Diary '74
Amy Halpern: Filament (The Hands)
Barbara Hammer: Dyketactics
Menses
Women's Rites
Abbie Herrick: Ghosts
Prey
J. Hoberman: Cargo of Lure
Nancy Holt: Underscan
Points of View: Clocktower
Takahiko Iimura: Parallel
Joan Jonas: I Want to Live in the Country (And Other Romances)
Disturbances
Larry Jordan: Once Upon a Time
Jon Jost: Speaking Directly
Paul Justman: Hampton
Helene Kaplan: Rose and Seymour at Home in Queens
Marjorie Keller: Objection
Stan King: Cheryl's Film
Illumine
Pace Falling Film
The Three By Film
John Knecht: Flashy Dancer
Lee Krugman: Dear Chuck
Magoo Loop
Mike Kuchar: Dwarf Star
Faraway Places
Owen Land: A Film of Their 1973 Spring Tour Commissioned by Christian World Liberation Front of Berkeley, California
Richard Landry: Divided Alto
Dave Lee: Archimedes Trilogy
Crux
Lumina's Gaze
Malcolm LeGrice: After Lumiere–L'Arroseur Arrose
Saul Levine: Note to Colleen
Robert Luttrell: Implosion
Curt McDowell: Boggy Depot
Naughty Words
Stinkybutt
True Blue and Dreamy
Susan Mogul: Take Off
J.J. Murphy: Print Generation
Pat O'Neill: Saugus Series
Tom Palazzolo: Enjoy Yourself – It's Later Than You Think
Jerry's
Dan Perz: Permutation
Pull Focus
Stalking
Treefall
Zoom
Yvonne Rainer: A Film About A Woman Who…
Adolph Rosenblatt: Underpass
M. Jon Rubin: Lozenge Licking
Sam Samatowicz: Actuate II
Richard Schaefer: Frankenstein
Richard Serra: Boomerang
Rosalind Schneider: Andrea Acting Out
Paul Sharits: Analytical Studies III Color Frame Passages
Color Sound Frames (Winding)
Synchronoussoundtracks
Lois Siegel: Painting With Light
Michael Siporin: Ritz Newsiola #1
The Ritz Newsiola #2
The Ritz Newsiola #3
Barbara Smith: Becoming Bald; Full Jar, Empty Jar; The Perpetual Napkin
Michael Snow: Rameau's Nephew by Diderot (Thanx to Dennis Young) by Wilma Schoen
Tyler Turkle: Smokey Wears Pantyhose
Walk That Dog
Woody Vasulka: C-Trend
Bill Viola: The Space Between the Teeth
Jon Voorhees: Destiny… The Universal Fantasy
Phil Weisman: Schubert's Lantern
Lawrence Weiner: Done To
Affected and/or Effected
Doris Wishman: Deadly Weapons
Brian Wood: Clearview
Peter Von Ziegesar: Oh No
Harvey Marc Zucker: Sitting Bull Lives!