Underground Film Thanks
This is a shout-out to everyone who drops by the site. I sincerely offer my warmest thanks to anybody who has just stopped by to read an article, or left a comment, or sent a film in for review, or told me to go check out new and interesting filmmakers, or pointed out a glaring, embarrassing mistake or any of the other too numerous to mention things that have helped the site out. The Underground Film Journal still has a pretty small audience, but it's an awesome one that makes me work harder to get the word out more about underground film.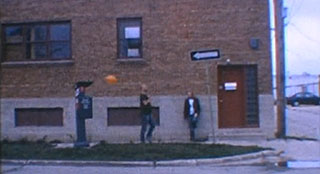 Even though you are all wonderful, I still want to post up a nice video by just one Underground Film Journal regular for everybody to enjoy on this holiday. Even if you're not here in the U.S. celebrating Thanksgiving and you're elsewhere out in the world, I think you'll like this, too.
Embedded above is a recently uploaded short film by my Canadian pal, Winnipeg filmmaker Clint Enns, who did me a really nice favor this week, so I wanted to spotlight something of his. The film is called back + forth and it's a nice little film that actually really cracked me up. It's the kind of short you enjoy for what's going on on-screen, but then can get more pleasure out of it by thinking about how the actual production must have gone.
And since I'm in "thanking Canadians" mode, I want to throw another shout-out to filmmaker-slash-curator Brett Kashmere, who is now based here in the U.S. This week, Brett sent me the spiffy print first edition of his own experimental film journal INCITE! that I just love. It's a great, thick and meaty publication. Much of the contents of the journal can also be found on the INCITE! website and if you go there, I recommend purchasing a copy. There's something about holding a film journal in your hands as opposed to just reading it on a computer screen.