Underground Horror Movies Streaming On Netflix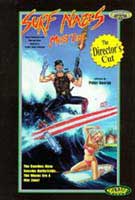 What exactly counts as an underground horror movie? Frankly, that's a tough distinction to make. "Underground" films are generally, by definition, genre-less concoctions. But, if one wanted to use a broad definition of "underground" to mean a low-budget film that didn't enjoy a large theatrical release, well, that counts for a wide breadth of what used to be called "Direct to DVD" features.
According the website Instant Watcher, Netflix currently has 576 movies available for streaming in the horror genre. The streaming horror movie titles I'm listing below are indeed low-budget films that have flown under the radar because they didn't enjoy large theatrical releases. But, also, they each have an almost indefinable quality that sets them apart from their peers.
They're a little more imaginative, particularly for their low budgets. A little stranger. A little more grotesque. Quirkier. More outlandish. However you want to describe them, they're all worth a look:
Bane, dir. James Eaves. Four women held prisoner in an underground dungeon are subjected to brutal experiments. Yes, that might sound like a classic "torture porn" setup, but the twist here is that the women are being held by a government-run scientific agency investigating god knows what. Plus, the women's complaints that they're being knocked off one by one on successive nights by a horrific creature fall on the scientists' deaf ears. Sci-fi + gore = fun!
S&Man, dir. J.T. Petty. Indie horror auteur Petty was given a lot of money to make a documentary about a peeping tom. Well, he didn't make that movie. Instead, he made this film about the world of extreme horror, where directors make movies that are little more than excuses to show the (faked) raping and mutilation of women. Except, one of Petty's subjects is a fake and it's up to you to figure out who. Also streaming is Petty's own supernatural horror flick, Soft for Digging, about the odd investigation into the death of a little girl.
Bad Biology, dir. Frank Henenlotter. Disappearing from the horror genre after making several indelible classics (Basket Case, Frankenhooker), Henenlotter finally returned in 2008 with Bad Biology, another revolting mess of the type of deformed horror that made him infamous. A woman who gives birth to grotesque monsters after every time she makes love meets a man with a ridiculously well-endowed member that literally develops a mind of its own. It's a match made in hell.
Deadgirl, dir. Marcel Sarmiento, Gadi Harel. Two teenage delinquent boys find a naked woman strapped to a gurney in an abandoned mental hospital. Even better, she's a mindless zombie! Of course, one of the boys immediately decides to make her his personal sex slave — as long as he keeps his inflamed libido away from her nasty chompers. All is well and good until their peers figure out where the two are disappearing to every day and decide they want a piece of the action, too.
The Human Centipede: First Sequence, dir. Tom Six. The title says it all. The eponymous creature of Tom Six's imaginative flick is so conceptually revolting, it's no wonder it became an instantly marketable idea, inspiring everything from T-shirt designs to throw pillows to dog chew toys. But, does the film live up to the hype? Are you kidding? How could it not! Six keeps the plot and complications going so that a one-joke idea becomes a fully fleshed out sideshow of terror. Plus, lead villain Dieter Laser puts in one of the great all-time over-the-top horror performances ever.
2001 Maniacs: Field of Screams, dir. Tim Sullivan. Following up on his own remake of the H.G. Lewis classic, Sullivan takes his Southern-fried maniacs on the road — to Iowa! There the killers may have met their match, a pair of dim-witted socialites who are filming a reality show. As expected, the blood and gore runs rampant with many imaginative splatterific special effects, along with a wickedly and intentionally offensive sense of humor. Horror icon Bill Moseley stars alongside returning maniacs Lin Shaye and Christa Campbell, plus Skinny Puppy frontman Nivek Ogre.
The Toxic Avenger, dir. Michael Herz and Lloyd Kaufman. Hey, if there's new technology available for Troma to spill its fluids out onto, you bet they're going to take advantage of it. Yes, the original superhero from New Jersey — made back when Kaufman was still using his "Samuel Weil" nom de plume — is available for streaming its original concoction of gore, boobs and dirty jokes right into your home, along with lots of other Troma classics. You can't go wrong streaming the entire mess: Mother's Day, Class of Nuke 'Em High, Surf Nazis Must Die, Terror Firmer and Tromeo & Juliet.