Underground Film Timeline: Phase 7 Complete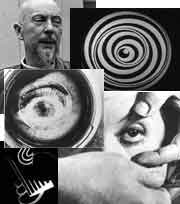 After a several month hiatus — way over half a year — I finally returned to updating the Underground Film Journal's Underground Film Timeline project, a comprehensive, chronological survey of significant events and films in underground film history. You can start navigating the Timeline here.
Phase 7 of the Timeline involved adding events and films found in P. Adams Sitney's landmark book Visionary Film: the American Avant-Garde 1943-2000. As you might be able to tell from the title, I used the 3rd and most recent version of the book.
Originally published in 1974, Visionary Film was the first serious critical survey of the modern underground film movement. Yes, Sheldon Renan's An Introduction to the American Underground Film had preceded it in 1967, but that offered more of a straight history than analysis. And despite the title of Parker Tyler's Underground Film: A Critical History being published in 1970, that book is more of an angry polemical rant than a serious survey.
So, that leaves us with Visionary Film, which covers a bit of underground film history beginning in Europe in the early 1920s before giving a serious overview of American filmmakers such as Kenneth Anger, Maya Deren, James Broughton, Sidney Peterson, Harry Smith, Stan Brakhage and several other leading figures of the American avant-garde.
Of course, since it was originally published in 1974, the main focus is on filmmakers of the '50s and '60s. And even though I have previously lamented that Sitney gave short shrift to '70s filmmakers, pulling data out of the book for the Timeline, I see that I was completely wrong.
In fact, one of the most exciting things about adding Visionary Film's data to the Timeline is just how much that data fills out the pages devoted to the '70s and the '80s, and, to a degree, the '90s. What's nice now is that combining Visionary Film's data with the data culled from Jack Sargeant's Deathtripping: The Extreme Underground, one can now see the parallel tracks of the old guard that Sitney covers and the young punks coming on the scene found in Deathtripping.
I think that's what frustrated me on reading Visionary Film the first time, that I was imposing my desire for a wide range survey of the '70s on the book instead of appreciating the info that Sitney did include because there is a lot in there.
At this point, I'm not sure what's next for the Timeline. Part of me wants to push hard on it and I have lots of ideas of things to do. However, at this time, I have more practical concerns that need to take precedence. Unfortunately, the Timeline hasn't generated the kind of traffic I had hoped it would that justifies putting serious time into it, which is why I have neglected it for the majority of 2011. A lot of that, I think, is my fault for not putting enough thought into its design and navigation.
Still, I hope people continue to check it out because it's filling out as nicely as I hoped it would when I conceived of the project. If you ever wanted to see what John Waters and Stan Brakhage were working on at the same time, now you have a place to go.