Underground Film Journal: Quote Whore, Part II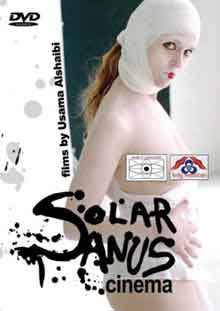 Transgressive filmmaker Usama Alshaibi sent me the above one-sheet promoting the release of his new DVD compilation, Solar Anus Cinema. And I was flattered to see that he used an Underground Film Journal pull-quote from my review of his Convulsion Expulsion, which I reviewed on Cinema Abattoir's Incarnation disc, as part of the promotion. Click the above image to embiggen.
Hopefully, I'll have a review of all of Solar Anus Cinema proper on the Underground Film Journal. The DVD includes 10 short films by Alshaibi, most of which I haven't seen. Although, considering how much I dug Convulsion Expulsion, I'm very excited to see the rest.