Underground Film Journal Editor Named To Chicago Underground Film Festival Jury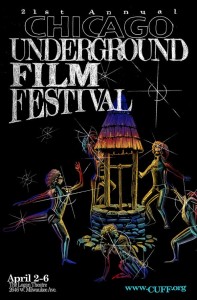 The Chicago Underground Film Festival recently announced the members of the 3-panel jury serving for the fest's 21st annual edition, one of whom is Mike Everleth, Executive Editor of the Underground Film Journal.
The other two members of the jury are Brian Chankin, who runs the Chicago video store Odd Obsession Movies; and Therese Grisham, a cinema studies and humanities professor. Full bios of each jury member is below.
CUFF has a unique awards system in which the Jury can hand out a total of six awards for whatever reasons they see fit. No simple Best Feature, Best Animation, etc. awards given out here; with the exception of the prestigious "Made in Chicago" award, which will be given to a local filmmaker. Everything else is up in the air.
While the Underground Film Journal has been keeping tabs on and writing extensively about the Chicago Underground Film Festival for the past eight years or so, the only time Mike Everleth ever physically attended the fest was in 2001. (Reviews of the films seen at that edition can be found here.)
From a personal standpoint, it is an honor and a pleasure to have been asked to serve on the Jury this year and certainly will be exciting to finally make a return visit to this fantastic film festival.
Read the bios of each Jury member:
Brian Chankin
As long as he can remember, Brian Chankin has been collecting obscure, strange, and ridiculous artifacts and media. After being fired from his job as an antique dealer in 2004, he realized he should be paid to own as many Godard movies as he already had. He opened Odd Obsession Movies, a Chicago video rental store featuring some 25,000 classic, foreign, indie, genre, experimental, and documentary films on DVD and VHS. Over the years he's found an affinity for Jamaican and West African music, which has led him to collect as many records of this nature as he can get his hands on. Along his journey to find more, he made a good friend in Ghana who introduced him to the vast and amazing world of hand-painted Ghanaian movie posters and barber shop signs, the pursuit and acquisition of which consumes his time and finances.
Alison Cuddy
Alison Cuddy is the arts and culture reporter at WBEZ 91.5 FM Chicago Public Media. Alison's been with the station since 2001 working as a host, reporter and producer. Previously she was host of Eight Forty-Eight and currently co-hosts Strange Brews, a podcast about the community and culture around craft beer.
Mike Everleth
Mike Everleth has been an online entertainment journalist for websites like Movies.com and IFILM.com; and is currently an editor for the American Film Institute's Online Catalog of Feature Films. For nearly 15 years, he has written about and promoted the work of underground filmmakers on his own website that, in its current incarnation, is known as the Underground Film Journal. He resides in Los Angeles, California, with his wife Jessica and his cat Leo.
Therese Grisham
Therese Grisham currently teaches cinema studies and humanities at Oakton Community College, following a Fulbright Fellowship and subsequent award as Guest Professor in Film Studies at the University of Dresden in Germany. Grisham is also an instructor in the Film School at Facets Multimedia in Chicago, where she has taught courses on genres and directors since 2006, mainly focusing on women. Grisham is on the editorial committee of the online journal desistfilm, and is a consulting editor for the film journal, La Furia Umana. Among her editorial projects for the latter, she co-curated a dossier of essays on Ida Lupino and Claire Denis. She has published on the films of Rainer Werner Fassbinder, Ulrike Ottinger, Isaac Julien, and others. Her articles have appeared in Screen, Wide Angle, and SubStance, and as book chapters. With co-author Julie Grossman, she is writing a book on Ida Lupino's film and television directing. An essay of hers on Martin Scorsese's Hugo is under consideration for a special issue of REFRAME on "post-cinematic affect."