Underground Film Journal Editor Inducted Into Online Film Critics Society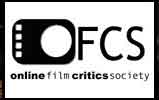 I found out this week that the Online Film Critics Society has accepted me as one of their new members for 2010. This is a difficult and prestigious organization to get into, so I'm truly honored that they've accepted me based solely on my work here on the Underground Film Journal. As of this writing, I don't know who my fellow inductees are this year, but congrats to all of them, too. It's an exciting week.
So, what does this mean for the Underground Film Journal? I applied for membership earlier this year in the hopes that by being an active OFCS member it would help raise the profile, not just of this website, but for all the filmmakers I try to promote on these pages. That's my intention and, hopefully, I can make it happen.
The OFCS has been pretty active lately promoting the work of their members on their blog and on Twitter and Facebook. I'm hoping to get in on that action. However, I also figure if I can interact with my fellow members, I can help spread the underground word to them directly. Being the only website that covers the underground exclusively, it's been tough getting that word out there as I don't get much link love from other sites. So, I'm doing my best to make myself and the work of truly great filmmakers more visible.
Of course, that always brings up the irony of the underground. You always want these films to get more attention, but, as soon as they do, then they're probably not underground anymore. Yes, the underground is always going to appeal to a specialized audience, but, at the same time, I always operate under the belief that more people would enjoy avant-garde and experimental work if they were only exposed to it more and in the right context. First step: Don't use words like "context" when describing it.
Again, I'm honored, thrilled and excited by this news. Thank you, OFCS. There's still a few more things I have to do to be officially listed on the OFCS site, but I was told I could blab the good word, so here I am blabbing. Now, it's time to get back to writing about great films…