Underground Film Journal Editor Back At AFI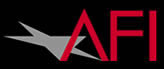 Mike Everleth, editor of the Underground Film Journal, has recently returned to the American Film Institute to do more research work for AFI's Catalog of Feature Films, an extensive database of every American film that has been released theatrically in the U.S.
Mike was originally hired by AFI back in 2010 to work on a 10-month long project to add basic records for films released in the U.S. between 1975 and the present. After the successful completion of that project, now Mike has been asked back to the AFI Catalog to assist in expanding those records to contain more detailed historical data. More information on how the Catalog is being currently developed can be found on the AFI website.
Regular readers of the Underground Film Journal will be pleased to know that many underground films are contained in the catalog, from George Kuchar's The Devil's Cleavage (1975) to Chris Metzler and Jeff Springer's Plagues and Pleasures on the Salton Sea (2007).