Underground Film Journal Editor Goin' To AFI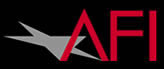 I don't normally write about my personal life on the Underground Film Journal, but this is exciting and relevant: I've recently been hired by the American Film Institute to work on their online catalog of films.
For those who only know me through my underground film writing on the Underground Film Journal may not realize that I love film of all stripes. Yes, even big budget Hollywood blockbusters. Everything has its place in the universe. I'm also a real stickler for detail and credits and have managed large online databases of films for other sites, such as Movies.com. I'm actually kind of a movie database "nerd." Heck, I even started my own just because it didn't already exist.
So, I'm thrilled to be working for such a prestigious organization for AFI and I think their catalog is fantastic. It's truly an honor to have been selected to work on this project. But, what does this mean for the Underground Film Journal?
Of course, I'll still be updating the site, probably just not at the same frequency that I have been for the past couple of months that I've been unemployed. Not quite what that frequency will be yet as I'm writing this before I actually start — but you'll be reading this after I have.
I do have to say that 2010 has been a great start for the Underground Film Journal! And I gotta keep that up somewhat. Traffic is at an all-time high and getting better all the time. Plus, just the sheer level of interaction I've had from underground filmmakers, film festival folks and other underground site owners has been tremendous with a couple of my initiatives going over bigger than I had hoped.
I'm really excited by what the rest of the year promises. Underground Film Journal doing great? Check! Working for an amazing film organization like AFI? Check! Yeah, it's a great start.