Underground Film History 1966: Film Can Borrow From All Arts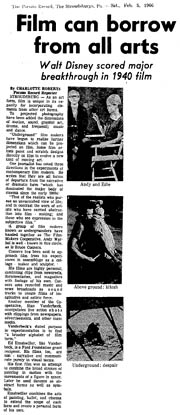 From The Pocono Record, The Stroudsburgs, Pa. – Sat., Feb. 5, 1966. ARTICLE EXCERPT:
Film Can Borrow From All Arts
By Charlotte Roberts
Pocono Record Reporter
Stroudsburg – As an art form, film is unique in its capacity for incorporating elements from other art forms.
To projected photography have been added the dimensions of motion, sound, graphic art, drama, and frequently music and dance.
"Underground" film makers have begun to realize further dimensions which can be projected on film. Some film artists paint and scratch designs directly on film to evolve a new kind of moving art.
One journalist has noted three directions in the experiments of contemporary film makers. He writes that they are all forms of departure from the narrative or dramatic form "which has dominated the major body of cinema since the early 1900s:
"That of the realists who pursue an unvarnished view of life; and in contrast the work of artists who have carried abstraction into film-making; and those who see expression in the subjective film."
A group of film makers known as undergrounders have banded together as The Film-Makers Cooperative. Andy Warhol is well-known in this circle, as is Bruce Conners [sic].
Conners [sic] has been said to approach film from his experiences in assemblage as a collage-maker and sculptor.
His films are highly personal, combining clips from newsreels, documentaries, and magazines with footage of his own. Conners [sic] uses recorded music and news broadcasts as sound tracks to create films of imaginative and satiric force.
Another member of the Cooperative, Stan Vanderbeck [sic], manipulates live action shots with clippings from newspapers, advertisements, and other mass media.
Vanderbeck's [sic] stated purpose in experimentation is to find "a broader alphabet of film form."
Ed Emshwiller, like Vanderbeck [sic] is a Ford Foundation grant recipient. His films, too, are non-narrative and communicate purely in visual terms.
His first film was an attempt to combine the broad strokes of painting in motion with the movements of a figure in space. Later he used dancers as abstract forms as well as symbols.
Emshwiller combines the arts of painting, ballet, and cinema to extend the scope of each form and create a personal form of his own.
END EXCERPT
Underground Film Journal notes: The above excerpt was the first couple of paragraphs of this article. The rest of the piece goes on to discuss Walt Disney's Fantasia, 3D movies, Cinerama and "laser beam" cinema.

The article also clearly misspells the filmmaker names Bruce Conner and Stan Vanderbeek.

It would be nice to know who the journalist is whom Roberts is referring to with her quote in the 4th paragraph.

Also, "undergrounders"? Was that term ever really in vogue?

If anybody can identify the two bottom film stills used to illustrate this article, please leave a comment below. Thank you.

P.S. The upbeat nature of this article is very refreshing.