Underground Film History 1964: 12 Filmmakers Receive $118,500 For Projects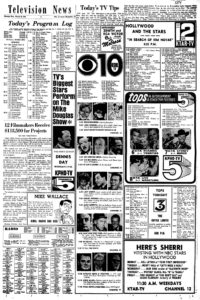 (Click image to read article as originally printed.)
From the Arizona Republic, March 16, 1964:
Twelve American filmmakers will receive a total of $118,500 from the Ford Foundation in its first move to aid creative artists in motion pictures. The grants range up to $10,000 for a one-year period. They will be used by the recipients either to produce short films or for travel and study.
The awards are part of a long-range plan of the foundation to include motion pictures in its program.
The undertaking was described as a "pilot project" by W. McNeil Lowry, director of the foundation's program in humanities and the arts, when it was established last June.
The moviemakers chosen are professionals but their works are generally unknown to viewers of popular film fare.
The 12 winners were selected from 177 nominees considered by a panel of judges. More than 400 letters had been sent to producers, directors, writers, critics and others in the search for the nominees.
The winners and their projects are:
Kenneth Anger of Los Angeles will make a color film tentatively titled, "Kustom."
Jordan Belson of San Francisco will produce abstract color subject titled "Re-Entry."
James Blue, Portland, Ore., will travel consult with other directors in the United States, Canada and abroad.
Bruce Connor, [sic] Brookline, Mass., one-year fellowship for experimental filmmaking.
Carmen D'Avino, New York City, will produce an animated color film.
Daniel Drasin, Brooklyn, will make a short fictional film and study here and abroad.
Edmund Emshwiller, Wantagh, N.Y., will produce a film tentatively titled, "Relativity."
Hilary T. Harris, New York City, will produce an experimental dance film.
Helen Leavitt, New York City, will produce a sound film.
Kent MacKenzie, Glendale, Calif., will produce a film about the life of a flamenco guitarist.
John R. McDermott, Westport, Conn., will produce a color film.
Stanley Vanderbeek, New York City, will produce two animated films.
Underground Film Journal says: Even though this article appeared in the Arizona Republic, it was a story picked up from the New York Times Service. The article perhaps was first published in the Times, but the only other instance we've found of this article to date was in the Corpus Christi Times, published on the same day.

Other notes: The article unfortunately spelled filmmaker Bruce Conner's name wrong.

The film attributed to Kenneth Anger that he would be working on would clearly eventually become KKK (Kustom Kar Kommandos), "finished" in 1965.

P. Adams Sitney in Visionary Film says that Jordan Belson had "retired" from filmmaking, but accepted the Ford grant anyway to make Re-Entry, finished in 1964.

Ed Emshwiller's Relativity would be completed in 1966.

James Blue interviewed dozens of filmmakers, of which the audtiotapes and videotapes are currently archived at the University of Oregon.

According to an email to the Journal from Dan Drasin, he never completed his film due to collaborative conflicts. Also, Drasin said he was nominated for the grant by Willard Van Dyke, who was the curator of film at the Museum of Modern Art at the time.