Underground Cinema 12: January-May 1971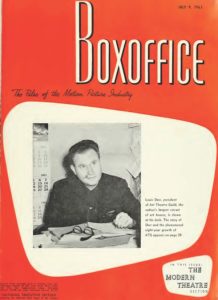 Underground Cinema 12 was a midnight movie screening series of underground films that ran in theaters owned by Louis Sher, who founded "the nation's largest circuit of art houses" in 1954.
While Sher was the head of the Art Theatre Guild, Underground Cinema 12 was run by his nephew Mike Getz. The series began at the Cinema Theater in Hollywood, California on Columbus Day 1963; and when it proved to be a big hit there, Getz came up with the idea to run the series at all of his uncle's theaters. A program would run on a Saturday night at one theater, then that theater would ship the films to the next theater, and so on.
The industry magazine Boxoffice profiled Louis Sher in their July 9, 1962 issue, over a year prior to the start of Underground Cinema 12. Sher came to cinema operations in his early forties as an outsider to the industry. The Art Theatre Guild's main focus was to screen foreign films and some U.S. independent movies.
Sher was a staunch anti-censorship advocate, which helped when his nephew was arrested in 1964 for screening Kenneth Anger's Scorpio Rising at the Cinema Theater. (The film was screened outside of the Underground Cinema 12 programming.)
The Boxoffice article also listed all of the theaters that Sher owned in 1962, including the then recently opened York 24 in San Francisco, California. The list of these theaters is below.
The Underground Film Journal recently acquired programming calendars for Underground Cinema 12 from the 1970s. By that time, many of Sher's theaters had been converted from "art houses" to showing hardcore pornography.
It is not known exactly when Sher's theaters started programming adult movies, but in an August 7, 1970 review of films by George and Mike Kuchar in the Los Angeles Times, Kevin Thomas refers to the Cinema Theater as a "nudie house" and mentions:
You can still see diverting and unusual fare once a week after the regular Saturday night show is over.
The Kuchar films screened in Hollywood on August 8, 1970, the day after the review was printed. The calendars in possession of the Underground Film Journal indicate that these films screened at the Art Theater in Dayton, Ohio on February 20, 1971, which goes to show how long it could take for these films to round the Underground Cinema 12 circuit.
In addition to the screening calendars, Getz also apparently circulated press materials for the theaters to use to promote screenings. For example, the Kevin Thomas review of the Kuchar films was photocopied with the date of the screening in Dayton and a quirky image not from the original review.
Below is the list of theaters that Sher owned in 1962. Then, below that are the schedules from the Underground Cinema 12 screenings in 1971 from January 16 to May 5; and scans of the actual calendars.
(The Underground Film Journal also wants to credit and thank Jason Pankoke of C-U Confidential for providing valuable resources that contributed to his article. Please check out Jason's amazing film website and print publications.)
Sher's Theaters, 1962
Columbus, Ohio
World
Bexley
Cleveland, Ohio
Heights
Continental
Westwood
Yellow Springs, Ohio
Little Art
Louisville, Kentucky
Crescent
Memphis, Tennessee
Guild
Studio
Champaign, Illinois
Art
Illini
Denver, Colorado
Vogue
Capri
Paris
San Francisco, California
Presidio
York 24
Fresno, California
Fine Arts
Sacramento, California
Guild
Hollywood, California
Cinema
Kansas City, Missouri
Rockhill
Scottsdale, Arizona
Kiva
Portofino
Tempe, Arizona
Paris
Valley
January 16
"Bottomless Dancer, Naughty Nurse, Liberated Miss, and Beyond"
Colored Relations, dir. Barry Spinello
Balloons, dir. A.J. Bruni and George Nelson
Liberated Miss, dir. Michael Lions
The Doll, dir. Walter Chappell
Some of My Best Friends Are Bottomless Dancers, dir. Barry Pollack
Friday Night 11 P.M., dir. Sarah Riggs
Naughty Nurse, dir. Paul Bartel
The Cool Head, dir. Patrick Hella
January 23
"The Lone Ranger Protects Red Riding Hod While She Plants Grass in People's Park"
Lone Ranger, Part 1, dir. unknown
I Think I'l Take My Robe Off, dir. John McLean
Let 1000 Parks Bloom, dir. Lenny Lipton
Klass Reunion, dir. John Hadley
Easy Red Riding Hood, dir. University of Tulsa Film Workshop
Marijuana Lecture, dir. Potpourri Productions
January 30
"Prolong Your Pleasure Sensualize Your Pain"
Lone Ranger, Part 2, dir. unknown
Lawn Mower, dir. Michael J. Klick
This Is It!, dir. Alan Watts and Joe Wemple
Bathroom Ballet, dir. Tom Roth
Anastenaria, dir. Mary Most
Love Among the Christians, dir. John Heinz
"2", dir. Renee Taylor
Hearts and Arrows, dir. Roy Fridge
What Forms Breathe Mankind, dir. Bruno Nherling
February 6
"Rejoice! Rejoice! A Good Thing's Gonna Happen Tonight"
Lone Ranger, Part 3, dir. unknown
An Afternoon With Abbie Hoffman, dir. Maurice Levy
Hog Creek, dir. Mike Durham
The Box, dir. Roy Fridge
End of the War in Vietnam, dir. John McLean
Purple Heart, dir. Vaughn Obern
Mohawk Rock, dir. Mike Smith
Stand Up and Be Counted, dir. Scott and Freude Bartlett
February 13
"Betty Boop Special"
Betty Boop's May Party
Dizzy Red Riding Hood
Betty Boop for President
I'll Be Glad When Your Dead
You Rascal You
Old Man of the Mountain
Bamboo Isle
Bimbo's Initiation
Mysterious Mose
Minnie the Moocher
Snow White
Rise to Fame
February 20
"Kuchar Brothers Extravaganza"
Pagan Rhapsody, dir. George Kuchar
The Secret of Wendel Samson, dir. Mike Kuchar (New version)
Encyclopedia of the Blessed, dir. George Kuchar
February 27
"Blow, Blow, Blow Your Mind, Gently Down the Stream — Jacquie"
Cinetude 3, dir. Keith Rodan
Hodge-Podge, dir. David Batterson
Still Life, dir. Ray Rice
Hi, dir. Mickey Grant
People Near Here, dir. Ron Finne
Flash Gordon Meets the Lavender Death, dir. Alan Barker
Thanatopsis, dir. Ed Emshwiller (Watch Online)
The Room, dir. Mordi Gerstein
Heartaches, dir. Mike Durham
March 6
"Relaxin' With Cohen, The Dead, The Stones & Some Other Good Friends"
Flicker, dir. Ray Rice
For Bruce, dir. Michael Stewart
Seeing a Sound Quickly, dir. Osborn
Zen Master, dir. Frank Lisciandro
The Film Festival, dir. Johann Rush and Terry Hunter
Grateful Dead Turn on the Carter Family, dir. Johann Rush
Begonia Festival, dir. Michael D. Stusser
Ladies and Gentlemen: Mr. Leonard Cohen, dir. Don Brittain and Don Owen
March 13
"How Underground Filmmakers Get It Off Making Films"
Living Is Dying, dir. Larry Jordan and John Schofill
Angel Blue Sweet Wings, dir. Chick Strand
Underground Film, dir. Paul Marshall
Film Flam Films, dir. unknown
Sunday They'll Make Me a Saint, dir. James D. Katsaros
Satan's Guru, dir. Herb De Grasse
Black Pudding, dir. Nancy Edell
Everybody and a Chicken, dir. Frank Gardner
March 20
Saint Flournoy Lobos-Logos & The Eastern Europe Fetus Taxing Japan Brides In West Coast Places Sucking Alabama Air, dir. Will Hindle
The Great Potato Chip Drop, dir. unknown
Butterfatfree, dir. Mickey Grant
Messiah, dir. John Rapoport
no title, dir. Alan Wald, Barry Levine and Ward Sellars
Memorabilia, dir. Donna Deitch
The Assassination Freaks, dir. Mickey Grant
Dead Tree, dir. Cliff Carter
The Applicant, dir. Mike Kleinman
3 1/2, dir. Marc Stone
Espressway to Your Heart, dir. Marc Stone
March 27
"Images to Dylan, Ray Charles & The Parris Sisters – Rockin' With Aretha, The Fugs & Woody Herman"
Spontaneous Sound (Part 1), dir. Pieter Van Deusen
Rhapsody in Wood, dir. unknown
Wendy, dir. Paul Ryan
Permian Strata, dir. Bruce Conner
Sam J. Campbell, dir. Bob Stein
Amoeba Lost, dir. Sheldon Silverstein
Spontaneous Sound (Part 2), dir. Pieter Van Deusen
Aretha Franklin, Soul Singer, dir. unknown
KKK, dir. Kenneth Anger
Breakaway, dir. Bruce Conner
Fugs, dir. Ed English
Cosmic Ray, dir. Bruce Conner
April 3
"Midnight Mind Suck Or, The Real Truth About What Women Do To Men"
All's Fair in Love and War, dir. Busby Berkeley
Memory of Love, dir. Lee Simondet
The Beckoning Sea, dir. Stephen Kabak
Mosaic, dir. Jack Chambers
Lotus Wing, dir. Jerry Abrams
Who, dir. Robert Flaxman
How Do You Seduce a Man, dir. Jeremy Paul Kagan
Below the Fruited Plain, dir. Lenny Lipton
April 10
"No Problems, No Politics, Just Good Old Sex & Sports"
Hotel for Men, dir. John Heinz
Fairies Tail, dir. L. Bolster
Judoka, dir. Josef Reeve
Karate Ballet, dir. Jerry Heinz
Shower, dir. Valerie Alvina
Weightlifter, dir. James Duffy
Gymnastic Flashback, dir. unknown
The Incredible Jet Car, dir. Rick Harper
What Every Boy and Girl Should Know, dir. Robert Green
Portrait of a Star, dir. unknown
A Quickie, dir. Dirk Kortz
April 17
"Truth Beauty & Love And What They Get Us Into"
Zuckerkandl!, dir. John Hubley and Robert Hutchins
Once, dir. Stephen Magdow
The Little Island, dir. Richard Williams
The Sixties, dir. Chuck Braverman
Old Glory, dir. Marshall Harvey
Piggies, dir. Gary Richardson
Grass, dir. Cooper and Schoedsack
Vigeland's Park of Life, dir. Kjeil Nilsen
May 1
"Love on a Bus! Love on a Cross! 2 Torrid Tales"
The Christ of the Rooftops, dir. Herb De Grasse
The Day of the Muni Love Bus, dir. Terry Sullivan