Uncovered: 1995 New York Underground Film Festival Picks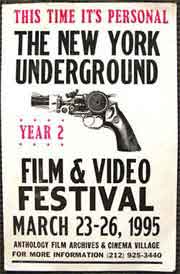 I've remarked a couple of times on the site in the past that there's little to no reference sources online for the first two New York Underground Film Festivals, held in 1994 and 1995. The official NYUFF website has had its archives offline for, I think, over a year now. If you go to their site, they simply direct you to what's available on the site Archive.org. (And, from my own experience, it's a safe bet not to assume your stuff will be on Archive.org forever — it can really vanish at any minute.)
At Archive.org, the NYUFF archives only go back to 1996. I don't know if the fest had a web presence those first two years or not, but whether they were ever there, the optimum point is that they're not there now and probably never will be. And my own personal assumption is that they never were online. Even if you go to Wikipedia, they have lineups for all the fests, except for the first two years. And I've only been archiving underground film festival lineups on the Underground Film Journal since 2006, so I'm no help.
I believe a pertinent question at this point, also, is: Who really gives shit what films played at a film festival in 1995? Well, I think it's important for historical reasons, particularly in determining the evolution of the term "underground film" from the 1950s to the present. Thanks to Nick Zedd's zine The Underground Film Bulletin in the '80s and the New York Underground Film Festival launching in 1994, the term "underground film" was coming back into vogue around that time.
But, what was really considered "underground" enough to be in NYUFF in '94 and '95? Recently, doing research at my current day job at the American Film Institute, I found some answers buried around the Internet that I want to share.
I found the titles of two films that played at the 2nd annual NYUFF, but before I get to those, I found something interesting regarding the first ever NYUFF in '94.
The New York Times rarely wrote about NYUFF during its 15-year run, usually just mentioning the fest when a film that screened there went on to have a regular theatrical release in NYC. However, on March 18, 1994, at the end of a review of a film that was screening at the New Directors/New Films event at the Museum of Modern Art, film critic Caryn James wrote:
The New Directors/New Films festival at the Museum of Modern Art is not the only place to see the work of young directors this weekend. Close to 50 short and feature-length films will be screened through Sunday during the first New York Underground Film and Video Festival in the East Village. All the works are premieres by American film makers and many are films rejected by the New Directors series.

The screenings are at the Anthology Film Archives, 32 Second Avenue, at Second Street. The programs last about two hours and offer either several short films, a single feature, or a double bill of feature-length films.
I wonder if that bit about many of the films being rejected by ND/NF is accurate or was just a loosely-true PR marketing statement made by the fest. Anyway, I thought that was a weird mention shoehorned into a non-relevant review.
Now, onto the 1995 NYUFF:
Two feature-length films, that I know of so far, that screened at the 2nd NYUFF went on to screen theatrically in NYC and perhaps in other cities. Those films are:
Cracking Up, directed by Matt Mitler
Dirty Money, directed by James Bruce
The 2nd annual NYUFF ran at the Anthology Film Archives and at Cinema Village on March 23-26, 1995. (You can see that on the poster above, which I nicked from the NYUFF website.) I don't know on which days these two films particularly screened, but they did sometime during those four days.
Dirty Money would go on to have a theatrical run pretty soon after the fest at the Quad Cinema beginning on May 12, 1995. I don't know for how long it played. The New York Times did run a review of the film on its opening day written by Stephen Holden who said it was a "skillfully paced thriller," but it did lose "its nervous edge and becomes clunkingly amateurish in its scenes of the police investigation." Overall, it's a fairly positive review.
As far as I can tell, Dirty Money was never released on DVD or video. Some listings confuse it with a 1972 French flick of the same name starring Alain Delon and Catherine Deneuve, which is available.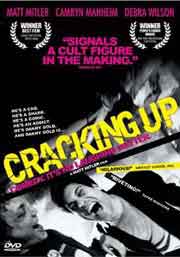 Cracking Up would also screen again in NYC after NYUFF, but not for another three years. The film played again at the Anthology Film Archives beginning on Nov 24, 1998. The New York Times also reviewed this film during its post-fest run. On the opening day, Anita Gates didn't like the film very much, saying:
Sometimes the biggest collective fool in Danny Gold's life is the people in the audience, because they just don't get it. But maybe they do understand and just don't think the message is very well expressed.
Cracking Up also screened at the First Glance Independent Film and Video Festival in Philadelphia on March 26, 1997. At the time, the Philadelphia City Paper didn't so much review the film as profiled the filmmaker, Matt Mitler, for the festival and did give it a Critic's Pick recommendation. The film also did have a DVD release, but is currently unavailable, but perhaps can be dug up somewhere if one looks hard enough.
So, based on the above research and previous research I've done, here's the list of titles I've compiled so far for having screened at the 1995 NYUFF:
Cracking Up, directed by Matt Mitler
Dirty Money, directed by James Bruce
Half-Cocked, directed by Suki Hawley (Read the underground film review)
Andre the Giant Has a Posse, directed by Helen Stickler
Who Do You Think You're Fooling?, directed by Mike White (Watch online)
Raging Boil, director unknown
Searching for this stuff is like when I was younger and I would go and dig up Jack Kirby and Thor comic books at different conventions. It's like an Easter Egg hunt.