Trent Harris' New Film: Delightful Water Universe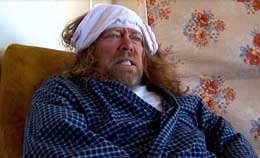 Trent Harris, the genius behind one of the greatest films of all time — The Beaver Trilogy — is back with a new underground feature film: Delightful Water Universe. Details can be found on the film's official site, including the trailer, but I'm also embedding that below.
This is Harris' fourth feature film, if you count The Beaver Trilogy as a "feature." (Beaver is actually a collection of three short films intended to be viewed in one sitting.) The official plot synopsis describes Delightful Water Universe thusly:
In the not too distant future nincompoops are in charge, free thinkers are locked up, and some believe Bigfoot controls the major TV networks with a hat he constructed from windshield wiper blades.

Intrepid woman chaser, Scott Vicious, and revolutionary madman, Franklin Musclewhite, may be America's last hope.
The synopsis smacks a little bit of Mike Judge's Idiocracy, but the trailer doesn't make it look very similar at all. Harris also describes on the site that it took him several years to make and not only did he direct it, but he produced, shot, edited and even composed the music. Basically, you can call Harris a one-mand band, pretty much literally because he did the soundtrack.
Of all of Harris' work, I've only seen The Beaver Trilogy, which I raved about here. But that's enough to make me excited about this new film. One of these days I'll check out Rubin & Ed and Plan 10 From Outer Space. For trivia fans: It was in the character of "Rubin" that Crispin Glover almost kicked David Letterman in the face in this famous video.
Delightful Water Universe was only completed recently and, for fans of weird crap who happen to live in or near Salt Lake City, you can check out the film this Saturday, Nov. 1. The film will be screening at 7, 9 and 9:30 p.m. at the Rose Wagner Center. Hopefully the film will get out on the underground film circuit next year, or Harris can arrange other screenings around the country so the rest of us can witness the madness.
But for audiences in SLC, be sure to arrive at 6:30 p.m. for the Parade of the Stars, plus a live radio broadcast, door prizes and the Delightful Girls will all be on hand. It sounds like a fun, post-Halloween romp.
And be sure to visit the film's official site, check out Trent Harri's website and watch the nutty trailer below: