Torture Ain't Nuthin' But A (Video) Game
In honor of both Lost and 24 going up into TV heaven this year, here's an oldie, but a goodie. It's Kent Lambert's hypnotic and unsettling 2006 video Hymn of Reckoning that repositions the two popular television series as an extension of '80s 8-bit video games. Lambert mixes audio from both shows with classic game graphics, then rapidly cuts together some of the shows' brutal torture scenes.
Film critic Roger Ebert has famously — or infamously depending on your point of view — stated that video games can't be art. But, I personally wonder how much of video game "plotting" has unconsciously seeped it's way into other forms of popular, mainstream culture.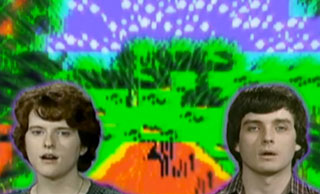 For example, there were times when an episode of 24 felt very much like a live-action video game, where the goal was to get Jack Bauer (Kiefer Sutherland) into a confined area where he would have to run through a maze-like structure and shoot random terrorists who would pop out at him. While the show was never shot directly from Bauer's POV, many scenes and episodes did resemble a first-person shooter game.
Lost, on the other hand, I did only watch the first season, but one could argue that the show was somewhat structured like a mystery-solving video game, where characters have to explore a limited location, i.e. the island, and uncover clues and solve puzzles in order to move onto the next "level," i.e. a different part of the island. True, the Lost first season was much more complex than that, especially with the character flashbacks each episode, but it did still have that mystery-solving video game element.