Tonight: Profane At Chicago Underground Film Festival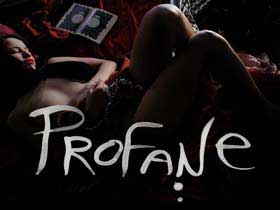 Usama Alshaibi's astounding feature film Profane will be screening at 10:00 p.m. tonight, June 3, at the Gene Siskel Film Center as part of the 2011 Chicago Underground Film Festival. Tickets can be purchased in advance at the CUFF website.
The Underground Film Journal reviewed Profane just a few weeks ago and called the film Alshaibi's "most accomplished work." An excerpt from the review reads:
Alshaibi brilliantly weaves together all of these conflicts and his own diverse filmmaking styles into a rich, complex work that is part horror movie, part psycho-sexual drama, part spiritual odyssey, part experimental vision and more.
Watch the Profane movie trailer:
Profane photo gallery: