Tom Palazzolo's Down Clark Street Available For IPad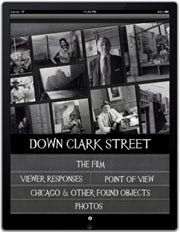 Independent documentary filmmaker Tom Palazzolo's 2000 film Down Clark Street is now available for the iPad via a new app. The film is a nostalgic vision of Palazzolo's hometown, Chicago, that combines vintage images of the Windy City with more modern footage. The filmmaker describes the film as "a chronicle of a time past and sometimes humorous look at the forgotten characters of the down and out Clark street of old."
With entry into the regular iTunes store nearly impossible for truly independent filmmakers without major distribution representation, the new way to get indie and underground movies onto mobile devices seems to be through apps. Down Clark Street's web app mobile distribution is being handled by a new company called appLESAUZE, which is releasing artistic films via applications.
Founded by artists Anthony Thompson Shumate and Robert Ziebell, appLESAUZE is producing interactive art productions and independent films for the Apple products such as the iPhone, iPod and iPad. With films such as Down Clark Street, appLESAUZE is using mobile app's interactive interfaces to to mimic and enhance the type of bonus features one gets from DVD releases — something films sold via iTunes don't offer.
For Down Clark Street, the web app includes the full 25-minute film plus features such as "Viewer Responses," "Point of View," "Chicago and Other Found Objects" and "Photos."
AppLESAUZE has also released the indie films Smile & Relax and This State I'm In.
Tom Palazollo has been making quirky documentary films since the late '60s, including the popular Jerry's in 1976. Several of his films are available on a DVD that was released in 2006; and his classic Sneakin' & Peekin' is available on Other Cinema's Xperimental Eros DVD compilation.
You can learn more about Palazollo at his official website.