Tom Palazzolo: Jerry's Angry Deli
Embedded above is Jerry's, a 1974 short documentary film by Tom Palazzolo about an infamous Chicago deli. The film is a total riot. Think Seinfeld's "Soup Nazi" times about ten-thousand and you get an idea of what Jerry, the actual owner of the deli, is like.
Jerry screams and berates customers and employees alike, making sure everybody toes the proper line regarding ordering deli sandwiches. But what really makes the film shine is the one-on-one interview with Jerry sprinkled throughout the film in which he appears to be one of the sweetest guys imaginable.
Jerry describes plainly and succinctly why customers put up with his over-the-top aggressive bullying. A customer might go to Jerry's for the food, but they're mostly going for the experience. They want to be screamed and yelled at because, as Jerry says, they want to feel special. He may be right.
Now for some background: A few weeks ago, I put up a video interview with Roger Ebert in which he mentioned his early days reviewing underground movies. My article also linked to a couple of those old reviews and tried somewhat to capture a sense of what the underground film scene was like in Chicago in those days.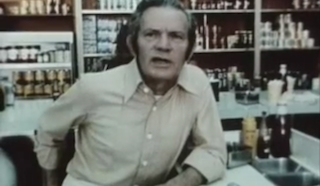 Then, I recently subscribed to Ebert's Twitter stream, where he linked to this particular video, although I don't know if it was more for the reminiscing about Chicago, for the filmmaker, or both. Whatever the reason, it's a great film.
Tom Palazzolo has made short underground documentary films about his hometown of Chicago since the late '60s, although his most recent film for rental through the distributor Canyon Cinema, Rita on the Ropes, was made back in 2002. He's also made two fictional, semi-autobiographical films, Caligari's Cure and Added Lessons.
Palazzolo also has a couple VHS compilation tapes also available through Canyon, while the music and film distributor Emphasis Entertainment Group (EEG) has put out a DVD compilation, Four Films , on which one can find the film Jerry's. EEG is the one who uploaded Jerry's to YouTube.
Another one of Palazzolo's films, the fantastic Sneakin' and Peekin', can be found on the Other Cinema DVD compilation Xperimental Eros
, which was reviewed on the Underground Film Journal in 2007.
Palazzolo is also a painter and a photographer who has uploaded samples of his work to the website he shares with his wife Marcia Palazzolo, who is also an artist.