Todd Phillips: From The Underground To The Golden Globes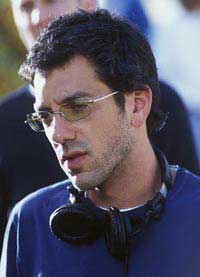 Congratulations to director Todd Phillips for winning the Best Motion Picture – Comedy or Musical Golden Globe for his hit film The Hangover. Phillips, it may not be popularly known by anyone other than regular readers of this site, holds a special place in the history of underground film as the co-founder of the New York Underground Film Festival in 1994.
Prior to that, Phillips directed the documentary Hated, about controversial punk rock musician and performance artist GG Allin, who regularly defecated, urinated and self-mutilated himself live on stage. According to the book Deathtripping: The Extreme Underground, Phillips financed the film through cab driving, "credit card scams" and by selling an advance poster signed by convicted serial killer John Wayne Gacy. Three days before the film's NYC premiere, Allin died of a heroin overdose.
Upon completion, Hated screened at film festivals all over the world. Phillips was especially impressed and inspired by Germany's Exground Filmfest that combined film screenings with live punk rock shows.
Returning home, Phillips got together with fellow filmmaker Andrew Gurland and started the New York Underground Film Festival, which combined film screenings with a series of music shows like at Exground. The centerpiece film of that initial NYUFF was Chicken Hawk: Men Who Love Boys by Adi Sideman, a controversial and infuriating documentary about the North American Man/Boy Love Association, aka NAMBLA.
Phillips and Gurland both exited NYUFF the following year — turning the fest over to programmer Ed Halter — and co-directed the documentary Frat House, which won the Grand Jury Prize at the 1998 Sundance Film Festival. While the film was set to later air on HBO, it was eventually pulled after allegations surfaced that some of the hazing sequences of the documentary were actually paid-for staged events.
However, it was while at Sundance that Phillips met comedy director Ivan Reitman, which eventually led to Phillips writing and directing the comedies Road Trip and Old School. Phillips went on to direct more comedies such as Starsky & Hutch; and was the original director on Borat before leaving the project over creative differences.
Phillips is currently set to follow-up his Golden Globe-winning The Hangover with Due Date, starring Robert Downey Jr. and Zach Galifianakis.
(P.S. Special thanks to Ed Halter for providing some of the NYUFF info.)