Tin Can Man Clips
Directed by Ivan Kavanagh, Tin Can Man won the "Boundary-breaking Best Feature Award" at the 2007 Sydney Underground Film Festival back in Sept. 2007. But it wasn't until just the other day when I found a video comprised of three clips from the film, which I've now embedded. (UPDATE: Compilation clip has been deleted. The above is the film's official trailer — click through to watch whole film.)
Before watching the clips myself, I didn't really know anything about the film and, if you're interested in watching them, too, I kind of suggest viewing them that way as well. So, just scroll down and do that. For a little commentary by me first, read on Macduff: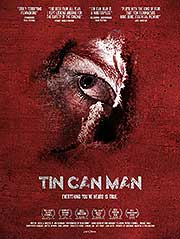 The clips are wonderfully surreal and disturbing and the first one almost works perfectly as it's own self-contained short film. Shot in a darkly claustrophobia-inducing manner, focusing almost exclusively on the actor's faces in front of an essentially nondescript background, the tension ratchets up rather quickly into an almost unbearable tenor. The uneasiness of the first clip is almost tripled in the third clip when we finally start to understand a little bit of the action and the plot.
As far as I can tell the film hasn't played in any other underground film festivals, but since Sydney is on the tail-end of the underground festival season (yes, I've determined there's an "underground season"), so maybe it'll get around the 2008 circuit. I can't find out too much else about the film around the web, but this is one, just based on this short 6-minute clip compilation, I'd be very interested in watching the whole thing.