Three Underground Film Festivals Unveil Posters: Chicago, Boston & FLEX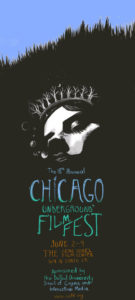 A trio of underground film festivals have revealed the posters for their respective events in 2011. Each image is as different in tone and style as the actual festivals are from each other. If you'd like a look at a bigger version of each poster, please click each one.
First up, we have the poster for the 18th annual Chicago Underground Film Festival designed by Kill Hatsumomo, a silkscreen artist from the Windy City.
For the past few years, CUFF co-founder and current Artistic Director Bryan Wendorff has been out there strongly promoting his festival as having moved away from its earlier punk and transgressive roots. That's obviously been clear for those who pay close attention to the fest's lineups every year. Hey, just compare the lineup from their first 1994 edition to last year's event in 2010 to see for yourself.
However, with this moody, understated poster, the festival seems to be really putting out a statement about what direction they've been moving towards. A bit more mature, a little more contemplative — what else should one expect from the elder statesman of underground film fests?
The 2011 Chicago Underground Film Festival isn't set to run until June 2-9, so that means they're actually still open for submissions if you're a filmmaker and still want to get your movie in. The final deadline for entries is March 15, so you still have quite awhile. You can either submit via their official website or through Withoutabox.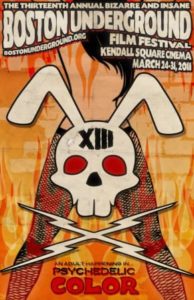 On the other hand, we have the the lucky 13th annual Boston Underground Film Festival, which is still proving their kick-ass punk as all hell bona fides.
Their poster this year is designed by their in-house designer, Bryan McKay, and with the excellent work he provides every year for BUFF, I wouldn't let him out of my sights, either. Of course, McKay works in the BUFF mascot Bacchus the bunny into the artwork, but who's looking at the rabbit anyway.
BUFF is always a rip-roarin' good time and it already seems that this year is going to be no exception. They have a lot to live up to with this poster! And they shall, having just revealed that their opening night film is going to be Jason Eisener's bloodbath extravaganza Hobo With a Shotgun, perhaps one of the most anticipated underground films of the year.
The festival is going to run on March 24-31 at the Kendall Square Cinema and entries at this point are closed. However, if you live in or near Boston or were already planning to go to the festival this year, BUFF has a great offer you should take advantage of.
BUFF has started a Kickstarter campaign where donors will receive discount packages for festival attendance based on the amounts donated. You can get discounted all-access passes, free swag, invitations to special parties and private screenings, and special acknowledgment on the festival site and in the program book. They have some really good deals, so go check that out. (Or just donate to this great event even if you can't go.)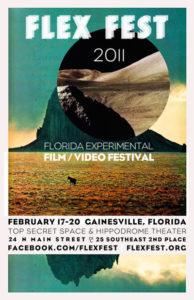 Last, but not least, is the rapidly-approaching Florida Experimental Film/Video Festival, or FLEX Fest for those in the know. Their poster is designed by Benji Haselhurst, who has made a work that's very befitting such a prestigious experimental media festival like FLEX.
FLEX Fest is going to run this month on Feb. 17-20 in Gainesville, Florida at the Top Secret Space and the Hippodrome Theater. The festival alternates every year between a curated event and a juried one. This year will be a juried edition and although it's just a few weeks away, the official lineup hasn't been posted yet. I'll get it up as soon as it is, though.
However, FLEX's website has some info. They'll be screening 60 films from all over the world, but, most excitingly, the two people sitting on this year's jury are filmmaker Vanessa Renwick and film preservationist Marc Toscano.
Renwick is a Portland-based filmmaker and a long-time Underground Film Journal favorite, so we're very excited for her. Coincidentally, she's also running a Kickstarter campaign to help her put out an awesome DVD collecting her short films.
Toscano is a film preservationist at the Academy Film Archive in Los Angeles. He also curates lots of experimental film shows of the films he's helped preserved and others.