Thorsten Fleisch: So Full Of Energie!
This one's gonna hurt. Seriously, Energie! by German filmmaker Thorsten Fleisch, which is embedded above, is one of the most brutal purely cinematic assaults I've ever had the pleasure to be beaten around by. Turn it on and dare yourself to not look away or blink for even a split second for its entire five-minute running time. It's relentless and punishing.
To create the film, Fleisch explains that an uncontrolled high voltage discharge of 30.000 volts exposes multiple sheets of photographic paper which are then arranged in time to create new visual systems of electron organization." Is that for real, or what? But it is interesting, once you visually lock into the groove of the chaos, to pick out and figure out any patterns that occur either by happenstance or design. A lot of the credit for the film's success also needs to the unsettling score by Jens Thiele, which combines perfectly with the visuals.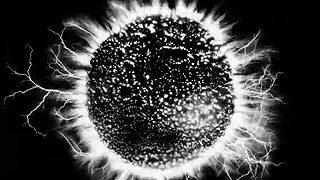 The film also just recently won the Best Experimental Film award at Dotfest, an Internet based short film festival. And that win is in addition to other several festival awards its won over the years. Plus, it screened way back at the 2007 Antimatter Underground Film Festival and just last year at the Florida Experimental Film/Video Festival.
Fleisch, who is based in Berlin, also has a ton more videos up on Vimeo — and an interesting mix of work, too. Some of it is in the vein of Energie! and some it is more direct, like this one where he lights his own hand on fire.
Plus, you can find out more about Fleisch at his official website.