The Origin Of "Underground Film"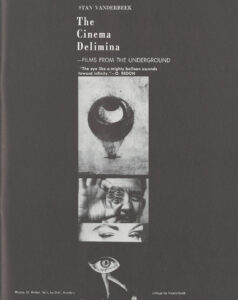 In the late 1950s and early 1960s, Stan Vanderbeek was one of the most prolific filmmakers of the experimental film scene, churning out primarily collage films featuring original footage cut up with found imagery.
At the same time, he was also a prodigious film theorist, producing articles on film theory in much the same way he made his films — by combining original writing with text and images created by others. One of Vanderbeek's most famous articles is "The Cinema Delimina" published in the Summer 1961 edition of Film Quarterly (vol. XIV no. 4), in which he is the first person to use the term "underground" to refer to what was then mostly referred to as "experimental cinema."
To be clear, though, Vanderbeek actually did not use the exact term "underground film."
The gist of the article appears to be Vanderbeek arguing that experimental films should be considered as something better than traditional narrative cinema produced by Hollywood. In Vanderbeek's reasoning, experimental films are made by artists, and should be considered as serious art, unlike narrative cinema, which is more closely aligned with novels and theater. Alas, in 1961, experimental films were being considered as something inconsequential to cinematic culture.
Vanderbeek uses the term "underground" twice in the article. In the first instance, the full title of the piece is "The Cinema Delimina – Films From the Underground." It should also be noted here that Vanderbeek's original writing for the article was in the form of poetry, not essay. So, the second time he writes "underground" is in this stanza:
Meanwhile, what of the artists, poets, experimenters in America,
who must work as if
they were
secret members of
the underground?
Clearly, Vanderbeek was not trying to establish "underground film" as a movement, nor as a supportive rallying cry. He was not happy being relegated to the underground. In fact, he didn't seem particularly happy with the term "experimental film," either.
The article begins with Vanderbeek ranting against being "suffocated with the cardboard cut-out poetry / of Hollywood." These poetic stanzas are then followed by an excerpt from a Stan Brakhage essay from 1957. The excerpt begins:
I am devoting my life to what is inappropriately called "The Experimental Film," in America, because I am an artist and, as such, am convinced that freedom of personal expression (that which is called "experiment" by those who don't understand it) is the natural beginning of any art[.]
Lastly, the article concludes with a final original stanza that starts with "We do not say 'experimental painting': painting is / a repaired medium, / constantly patched and reworked through the centures".
Vanderbeek also quotes Jonas Mekas:
They laughingly call us 'beatnik productions.' [snip] We are the true professionals; we know goddamn well what we are doing and what we want to do.
Other filmmakers that Vanderbeek excerpts are Hilary Harris, who extols the virtue of movement in cinema; Robert Breer, who tells stories about the improvised animation stands he has used; Len Lye, who predicts the world wide distribution of films via satellite; Robert Frank, who says that films "should be made by intelligent people"; and Carmen D'Avino who tells a story about crafting a film by hand for twenty-five dollars.
The world that Vanderbeek paints a picture of in the article has essentially come true. "Experimental films" are now available to be seen by virtually every person on the planet. However, their effect on the overall culture is still seemingly stuck in the "underground" while narrative cinema is a ubiquitous, domineering multi-billion dollar industry.
You can watch Vanderbeek's most famous short film Breathdeath here. Also, below is a gallery of film stills used to illustrate "The Cinema Delimina – Films From the Underground."