The One Film You Need To Support: All The Rage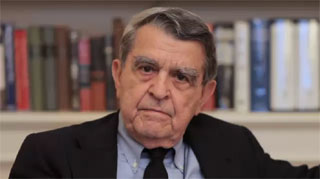 Suki Hawley, David Beilinson and Michael Galinsky of RUMUR Films are an amazing trio of filmmakers who have made many important must-see documentaries, such as Battle for Brooklyn and Who Took Johnny?.
But with their latest project, All the Rage, they are attempting to actually change viewer's lives.
All the Rage is a profile of Dr. John Sarno, the American doctor who has been a nearly lone — but absolutely essential — voice in the wilderness of modern day medicine. Dr. Sarno has long championed a holistic mind-body approach to solving numerous common ailments, including — most famously — back pain. His contention that most back pain is the result of psychological trauma over physical trauma has earned him the devotion and respect of the thousands of people he has cured.
Some of Dr. Sarno's most enthusiastic supporters include Larry David, John Stossel, Senator Tom Harkin and Howard Stern.
Now you can support this documentary that will bring the story Dr. Sarno's incredible work to an even bigger audience through Kickstarter. Supporters of the film can receive a special DVD edition of the movie with tons of bonus content, signed copies of several books on the mind-body connection, copies of other docs by the filmmakers and more.
On a personal note, we here at the Underground Film Journal are extremely strong believers in the philosophy of the mind-body connection and believe this film is an incredibly important one to be made and seen. Please consider supporting it at whatever level you can.