The Next Sundance NEXT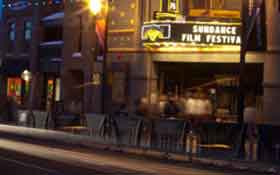 Last year, to much hype about the future of film festivals bringing films into people's homes over the Internet, the Sundance Film Festival launched NEXT, a curated series of 8 "innovative" and "low-budget" films that also played on YouTube — for a price — for the duration of the fest.
As an innovative program, NEXT proved to be largely disappointing — to the indie film industry anyway, not to the filmmakers themselves. Getting into Sundance is a cachet for any filmmaker in and of itself, so that was bonus for these films. However, during the fest at the time, many film bloggers and writers complained that the NEXT films were impossible to find on YouTube. Plus, the entire program didn't end up turning the industry or the current film festival paradigm on its ear, and financially it sounded like it was all a big bust.
But, NEXT, or as the festival also calls it <=>, is back for a second go-round with another eight films, all of which are world premieres. However, the announcement about NEXT on the festival website doesn't mention if they're partnering up with YouTube again or not. The only description reads: "Eight American films selected for their innovative and original work in low- and no-budget filmmaking."
Just like last year, the actual qualifications of these films to match Sundance's hope for NEXT is unclear. However, just reading through the synopses of the films — which I've reprinted below directly from the festival website — it appears that Sundance has found films that more closely match the goals that NEXT was created to meet.
Last year, six of the films sounded just like familiar romantic comedies while two were about Muslims having identity crises. The NEXT films this year sound a bit harder to group together by traditional genres at least. Plus, with films like Bellflower, which was made on a handmade camera, the selections seem like they better fulfill the promises made by creating the section in the first place.
Also, another film in NEXT, The Lie, was directed by a dude who might know a thing or two of doing something "innovative" and "low budget" that makes a big splash at Sundance: Joshua Leonard. If you don't recognize that name, he was "Josh," one of the fake film students lost in the woods in The Blair Witch Project, which of course blew up at Sundance in 1999.
There was much written about NEXT last year, so it'll be interesting to see if anybody pays as much special attention to the section this year.
For now, here's the official Sundance synopses and credits for the next NEXT films:
Bellflower / U.S.A. (Director and screenwriter: Evan Glodell) – A ballad for every person who has ever loved and lost – with enough violence, weapons, action and sex to tell a love story with apocalyptic stakes. Cast: Evan Glodell, Jessie Wiseman, Tyler Dawson, Rebekah Brandes.
The Lie / U.S.A. (Director: Joshua Leonard; Screenwriters: Jeff Feuerzeig, Joshua Leonard, Mark Webber and Jess Weixler, based on the short story by T. Coraghessan Boyle) – A man overwhelmed and disappointed with life tells a lie to avoid going to work… what could possibly go wrong? Cast: Joshua Leonard, Jess Weixler, Mark Webber, Alia Shawkat, Jane Adams and Kelli Garner.
Lord Byron / U.S.A. (Director: Zack Godshall; Screenwriters: Zack Godshall and Ross Brupbacher) – When he's not pursuing women, Byron is smoking weed and loafing around. But he's grown restless in his middle-age and feels the need to escape – he just doesn't know where to go. Cast: Paul Batiste, Gwendolyn Spradling, Kayla Lemaire.
The Off Hours / U.S.A. (Director and screenwriter: Megan Griffiths) – A passing truck driver brings an unfamiliar sense of optimism to a woman working the night shift at a quiet diner, reminding her it's never too late to become the person you always wanted to be. Cast: Amy Seimetz, Ross Partridge, Scoot McNairy, Lynn Shelton, Bret Roberts, Tony Doupe.
Prairie Love / U.S.A. (Director and screenwriter: Dusty Bias) – When a mysterious vagrant living out of his car among the snowy plains discovers a nearly-frozen local with a pen-pal girlfriend, he sees an opportunity to change his lonely existence. Cast: Jeremy Clark, Holly Lynn Ellis, Garth Blomberg.
Restless City / U.S.A. (Director: Andrew Dosunmu; Screenwriter: Eugene M. Gussenhoven) – An African immigrant survives on the fringes of New York City. Music is his passion, life is a hustle and falling in love is his greatest risk. Cast: Danai Gurira, Anthony Okungbowa, Babs Olusanmokun.
sound of my voice / U.S.A. (Director: Zal Batmanglij; Screenwriters: Zal Batmanglij and Brit Marling) – A young couple infiltrates a cult that meets in a basement in the San Fernando Valley. Cast: Christopher Denham, Nicole Vicius, Brit Marling.
to.get.her / U.S.A. (Director and screenwriter: Erica Dunton) – Five girls come together for one fateful night where anything goes. They all had secrets, but their friendship was the only thing they knew to be true. Cast: Jazzy De Lisser, Chelsea Logan, Adwoa Aboah, Jami Eaton, Audrey Speicher.