The New Transgression On DVD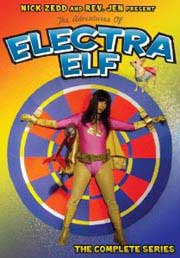 While the Cinema of Transgression pretty much "officially" ended a few decades back, two new DVDs have been recently released that recall that earlier era.
First, the founder, prime motivator and manifesto-writer of the whole Transgression movement has a brand new DVD out of his work, but it's not quite what you might expect. On disc for the first time, it's the full run of Nick Zedd's whacked-out, superhero TV series The Adventures of Electra Elf, starring the fabulous Rev. Jen.
This is a four-disc box set that includes all 20 episodes of the show, plus a photo gallery, making-of footage, a special insert booklet and more. The Adventures of Electra Elf was produced for and aired on BCAT, Brooklyn Community Access Television, although the episodes were also streamed online for audiences outside of New York to see.
Since it was made for TV, Electra Elf doesn't have the extreme sex content of Zedd's earlier transgressive films, but the show still featured the same wild, anarchic and satiric spirit of his older work. Rev. Jen stars as Jennifer Swallows, a mild-mannered newspaper reporter who transforms into the superhero Electra Elf who, with the help of her chihuahua sidekick Fluffer, battles evil supervillains such as Bi-Polar Bear, Rush Lintball, Capt. SUV, Luciferia, Gangreen and more.
Buy The Adventures of Electra Elf on Amazon.
Watch the trailer: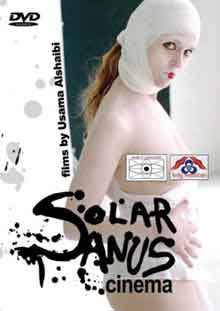 Next up, Usama Alshaibi previously released his Solar Anus Cinema DVD collection of transgressive short films himself, but it's recently been reissued by the distributor Holy Mountain Video.
The DVD collects nine disturbingly erotic female portraits that combine the loving gaze of Alshaibi's camera with just a slight hint of violence and brutality, whether it's just focusing on a wound like in Gash, or Organ Molly drooling blood on a plate of glass, or the full-on traumatic assault of Slaughtered Pigtails. Here's how I described these shorts in a previous review of the DVD:
Yet, this violence, although outwardly reflected on the women's bodies, are acts of self-flagellation. Alshaibi is punishing his own guilty consciousness over his voyeurism by transforming the women from sexually seductive beings into physical forms made up of flesh and blood.
Solar Anus Cinema also includes a longer short film by Alshaibi: The Amateurs, a frightening comedy about an aggressive director — played by Alshaibi — trying to stage an amateur porn film with two hesitant men and a group of strong-minded, independent women.
If you passed on the self-released version of Solar Anus Cinema, do yourself a favor and grab one now.
Watch the trailer: