The Lid's Off Morality! Hollywood Gets Word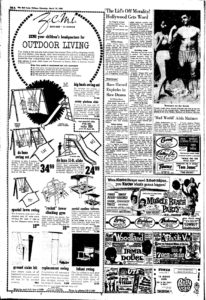 (Click image to read article as originally printed.)
From the Salt Lake Tribune, March 26, 1964
By Philip K. Scheuer
© Los Angeles Times
HOLLYWOOD, March 25 — The lid's off.
That's the word around Hollywood.
This goes not only for sex morality but for other moralities as well — like respect for the established institutions of government.
Defiant Climate
Some reasons given: (1) families pay lip service to family pictures but seldom enough admissions at the box office to pay off; (2) the success of frank foreign imports and even the nudies ground out at home; (3) the same old competition with television, sports, etc.; (4) the general climate of defiance of convention in the mediums of art and communications, including plays, novels, periodicals and even TV itself, and (5) most of all, dollars and cents.
A good deal that is happening is happening because the edges of artistry and pornography are constantly growing more blurred; or, if you will, deadened (as we become more shock proof).
Example: A couple of weeks ago the Hollywood vice detail confiscated "Scorpio Rising," a film made by Kenneth Anger, as "lewd in nature." A few days later, the Ford Foundation named Kenneth Anger as one of "12 American creative film makers who will receive grants totaling $118,500."
[END OF EXCERPT]
Underground Film Journal says: The above is the opening paragraphs excerpted from a Salt Lake Tribune article that itself is an excerpt from a Los Angeles Times article, published on March 21, that looked into why Hollywood was using the outdated Production Code since so much filth was hitting movie screens anyway. The original article was also chopped up for the Winnipeg Free Press on March 28. While the first film mentioned in the article was an underground one, Scheuer primarily writes about the degeneracy of modern mainstream films, thus making it seem that the underground wasn't too far from studio fare.

The L.A. Times does have other articles about the Scorpio Rising bust that the Journal hopes to feature in the near future.