The Legacy of Jack Smith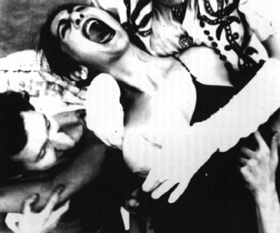 I've mentioned on this site a few times, or at least once I can remember, about how much of a shame it is that Jack Smith's Flaming Creatures isn't readily available on DVD. Kenneth Anger got a nice two-volume DVD retrospective and Mike Kuchar's Sins of the Fleshapoids is out from Other Cinema. However, those two filmmakers are still alive and active participants in those DVDs. Jack died in 1989 and I really had no idea how contentious the rights to his work are — mostly because I'm a clueless dork and do little research.
Karina Longworth, though, by presenting a video starring performance artist Penny Arcade, one of the main participants over the struggle over who actually owns Jack's work. I'll embed the video below, too, if you're interested in watching. And from following a couple of links, I found out more about the entire situation. A great deal of the backstory can be found in this Village Voice article by C. Carr, which I guess was written way back in 2004.
The gist is this: First of all, Jack didn't leave a will at the time of his death indicating what should be done with his work. Penny Arcade was close to him at the time and she took it upon herself to get his things in order and figure out what should be done with it. She also got Voice critic J. Hoberman involved to help out and they formed the Plastic Foundation to protect the work.
Meanwhile, Jack's closest living relative was his sister, Mary Sue Slater, who hadn't spoken to her brother since the '50s, but legally she has the most rights to his work. Hoberman repeatedly asked Slater to give up those rights. However, Slater never responded, so Hoberman and Arcade just went about trying to find places to accept Jack's work.
But then things got more complicated when director Mary Jordan, who made the documentary Jack Smith and the Destruction of Atlantis, and writer Irving Rosenthal egged on Slater to gain the rights:
In the autumn of 2002, Rosenthal called Mary Sue Slater after learning that the Plaster Foundation intended to charge Jordan $10,000 to $13,000 for up to 40 minutes of Smith's footage. (In contrast, Warhol's footage costs about $6,000 a minute.)

"I was so outraged by that contract that I called Mary Sue Slater at home," says Rosenthal. "I said, 'Look, Jack's stuff is really worth an enormous amount of money, and it's in the hands of these crooks.'" Rosenthal is the one who thinks the archive is worth millions, and maybe it is, but the Plaster Foundation has never been able to afford an appraiser.
That was in 2004. The Arcade video embedded below is from 2007. In 2008, the Berlinale just showed a retrospective of Smith's work that was restored by Jerry Tartaglia via the Plaster Foundation.
I'm trying to find out the status of where all this is currently. I suppose it's all tied up in the courts. If I can dig up more info, I'll do a future post, but hopefully this can all get worked out and we can finally get Flaming Creatures on DVD, if not a comprehensive retrospective of Smith's films.
Finally, as of this posting I haven't watched the entire Arcade video posted below. But whenever I hear Penny's name, I think of the hilarious short film New York Is Disappearing, directed by Heiko Kalmbach, and starring Aracde and Edgar Oliver. I saw it at a random screening in NYC once and while I don't remember any exact dialogue, I can still hear the tone of Arcade's incessant whining and screeching rattling around in my brain. The video below is more sedate, but that was a great short film and it's available for theater rentals from the Film-Maker's Cooperative.