The Jonas Mekas Timeline: 1922 – 1974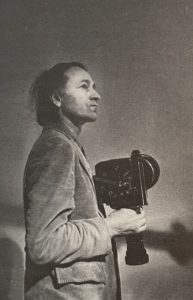 Jonas Mekas (1922 – 2019) accomplished much in his long life. And that's not just in the realm of underground film! Mekas practically lived a lifetime under Nazi rule before reluctantly coming to the United States in 1949.
At the Underground Film Journal, we love our timelines, so we've decided to maintain this list of important events in Mekas's life whether it relates to his passion for the cinema or his personal achievements not related to film.
The plan is to update this timeline using multiple reference sources. Currently, we are using four.
One is a profile of Jonas written by Calvin Tomkins that was first printed in the January 6, 1973 issue of the New Yorker magazine; and reprinted in the book collection The Scene: Reports on Post-Modern Art.
Another source is the "Introduction" to the book of essays To Free the Cinema: Jonas Mekas & The New York Underground. The "Introduction" is written by David E. James, who also edited the book.
Lastly, the Journal is pouring through Jonas's personal diaries. I Had Nowhere To Go covers his years in Europe (1944-1955) and his first few years in America. I Seem To Live, Vol. 1 covers his years in New York City, from 1950 to 1969.
The first two diary books do overlap a few years. In that overlap, I Had Nowhere To Go focuses more on Jonas's personal struggles adapting to America as an immigrant, while I Seem To Live, Vol. 1 has more on his experiences in filmmaking.
Below the timeline is a gallery of photographs used to illustrate Jonas's chapter in The Scene.
The Journal cannot promise we'll keep this timeline updated, but that's currently the plan as, obviously, we're fascinated by Mekas's life.
1922
Jonas Mekas is born in Semeniskiai, Lithuania.
The Scene, pg. 166
He is born on Christmas Eve.
To Free The Cinema, pg. 4
1936
Age: 13
Jonas graduates from primary school and becomes an agricultural laborer.
To Free The Cinema, pg. 4
1938
Age: 15
Jonas attempts to enter high school, but is too old for the beginning grades.
To Free The Cinema, pg. 4
1940
Age: 17
Jonas gains admission to high school.
To Free The Cinema, pg. 5
1942
Age: 19
Jonas graduates from the Gymnasium.
The Scene, pg. 166
Jonas works for a local newspaper; and contributes to an anti-Nazi underground paper.
To Free The Cinema, pg. 5
1943
Age: 20
Jonas becomes an assistant editor of a literary weekly. (This may be the newspaper mentioned in To Free the Cinema above with an incorrect year here.)
The Scene, pg. 166
1944
Age: 21
A pastor forges papers so Jonas and his brother Adolfas can travel to Vienna to avoid the Nazi occupation. That pastor was Jonas and Adolfas's uncle — their mother's brother — who gave his nephews the names of some contacts in Vienna who could lead them to safety in Switzerland.
The Scene, pg. 167
I Had Nowhere To Go, pg. 20
However, in July, their train is diverted and they end up in a prison camp at Elmshorn, a suburb of Hamburg, where they are forced to work in a German factory.
The Scene, pg. 167
I Had Nowhere To Go, pg. 23
1945
Age: 22
After the German factory where they are working as forced laborers is closed down, Jonas and Adolfas, talk their way into being allowed to travel to find work on a German farm.
I Had Nowhere To Go, pg. 51
In May, as WWII is winding down, Jonas and Adolfas leave the farm where they have been working as slaves and end up in Camp Mürwick. This was what was known as a Displaced Person camp, for liberated people like Jonas and Adolfas who did not want to return to their home country, which was now under Soviet rule.
I Had Nowhere To Go, pg. 68
1948
Age: 25
A book of Jonas's poems, Semeniskiy idiles (Idylls of Semeniskiai), and a book of his short stories are published.
To Free The Cinema, pg. 5
1949
Age: 26
Jonas and Adolfas move to the Displaced Persons camp at Schwaebisch Gmuend.
To Free The Cinema, pg. 5
On April 1, Jonas and Adolfas receive a letter from Povilas Variakojis, offering them work in his bakery in Chicago. Povilas is a friend of their uncle's.
I Had Nowhere To Go, pg. 203
On April 10, Jonas and Adolfas go to the emigration office to see about emigrating to Israel. Although not Jewish, the brothers are excited by the prospect of helping to rebuild that country, especially their film production industry. Their plan is stymied by an official. Also, despite the offer to go to Chicago, the brothers do not think they will be happy in America.
I Had Nowhere To Go, pgs. 205-206
On September 29, Jonas and Adolfas leave their D.P. camp to begin their journey to America.
I Had Nowhere To Go, pg. 284
After ten days at sea, on October 28 at 10:00 p.m., Jonas and Adolfas arrive in New York harbor. While staring at the urban skyline, the brothers decide to stay in New York City, and not travel to Chicago to work in the bakery. Instead, they stay in a friend's parents' apartment in Williamsburg, Brooklyn.
I Had Nowhere To Go, pgs. 293-294
On their third night in New York City, Jonas and Adolfas attend a screening of The Cabinet of Dr. Caligari and The Fall of the House of Usher, which was sponsored by the New York Film Society and programmed by Rudolph Arnheim.
To Free The Cinema, pg. 5
For the rest of the year, Jonas works a series of odd jobs in manufacturing; and is quite miserable.
I Had Nowhere To Go, pgs. 295-299
1950
Age 27:
In January 1950, Jonas sees Musical Poster #1 by Len Lye.
I Seem To Live, vol. 1, pg. 20
On March 22, Jonas sees four avant-garde films at the Museum of Modern Art. His favorite is Germaine Dulac's La souriante Madame Beudet, but he also sees Ballet Mécanique by Fernand Léger, Entr'acte by René Clair, and Ménilmontant by Dimitri Kirsanoff.
I Had Nowhere To Go, pg. 309
(Note: You can watch Ballet Mécanique and Ménilmontant on Kino's first Avant-Garde collection; Entr'acte on the Anthology of Surreal Cinema DVD; and La souriante Madame Beudet on the Early Women Filmmakers DVD.)
In March, Jonas and Adolfas put a deposit down on a 16mm Bolex camera, but cannot secure financing to pay for the rest.
I Seem To Live, vol. 1, pg. 12
In early 1950, perhaps April, Jonas notes in his diaries that he and Adolfas have begun making movies, and have joined "a few" experimental film clubs where they have screened their work.
I Had Nowhere To Go, pg. 313
Although Jonas's diary film Lost Lost Lost opens with a statement saying that he and Adolfas bought a 16mm Bolex camera just a week after landing in America — which would have been November 1949 — his written diaries state that the brothers didn't "buy" a camera until April 1950. However, he does note that he and Adolfas had rented cameras before purchasing one, which may be what he's referring to in Lost Lost Lost.
I Had Nowhere To Go, pg. 316
On April 29, Jonas and Adolfas finally get the money to buy their Bolex camera. They borrow the money from a Lithuanian man named Klybas, who had been the mayor of Birzai before emigrating to Brooklyn. Klybas's daughter Vida was instrumental in convincing her father to give the Mekas's the money.
I Seem To Live, vol. 1, pg. 16
On June 4, Jonas notes in his diary that he is editing his film Lost Lost Lost, a film that wouldn't be completed and released until 1976.
I Had Nowhere To Go, pg. 316
1951
Age: 28
January, 1951, after working a succession of odd jobs in manufacturing since arriving in America, Jonas finds work at Graphic Studios, a photograph printing studio that supplies photos to magazines such as Newsweek. Jonas is initially hired as a "delivery boy," but is later promoted to a camera position.
I Had Nowhere To Go, pg. 365
March 9, 1951 — Robert Flaherty writes a letter to Jonas rejecting his script called Lost Lost Lost.
I Seem To Live, vol. 1, pg. 40
October, 1951, Jonas has a membership card for Amos Vogel's Cinema 16 club.
I Seem To Live, vol. 1, pg. 36
1952
Age: 29
August 1952, Jonas writes that he plans to study at the Film Institute with Hans Richter. Jonas tells Hans that he has no money for school, and that Hans tells Jonas to come to classes anyway.
I Had Nowhere To Go, pg. 429
1953
Age: 30
April 4, 1953, Jonas attends a screening of the film Kameradschaft at Club Cinema, an organization that Jonas describes as a film group for American leftists organized by Howard John Lawson. Jonas doesn't give any other information about the film, but what he watched is likely the 1931 film by Georg Wilhelm Pabst. The English title is Comradeship.
I Seem To Live, vol. 1, pgs. 54 & 58
April 20, 1953, Jonas attends a film class at the new school where he sees James Broughton's Four in the Afternoon; and meets Curtis Harrington, who screened Picnic. Jonas says he's going to meet again with Harrington to discuss the "Film House idea".
I Seem To Live, vol. 1, pg. 62
May 16, 1953, Jonas does meet with Curtis Harrington again and they discuss the "Film House / Film Institute". This may be an early idea that evolved into the Anthology Film Archive. Also on this day, Jonas visits with Ian Hugo and sees Bells of Atlantis.
I Seem To Live, vol. 1, pg. 68
1955
Age: 32
The first issue of Film Culture, edited and published by Jonas, appears in January.
The Scene, pg. 171
To Free The Cinema, pg. 7
1958
Age: 35
In the fall, Jonas begins his weekly "Movie Journal" column in the Village Voice.
The Scene, pg. 172
To Free The Cinema, pg. 8
1959
Age: 36
In a "Movie Journal" column on February 4, Mekas writes about "the conventional, dead, official cinema."
To Free The Cinema, pg. 8
1960
Age: 37
Jonas convinces the Village Voice to hire Andrew Sarris to review the commercial cinema releases.
The Scene, pg. 172
Jonas begins work on Guns of the Trees after buying some out-of-date film stock. To Free the Cinema notes that production began in the spring.
The Scene, pg. 173
To Free The Cinema, pg. 9
July 14, 1960, Jonas says "we" were arrested for scouting locations at a public lake in Connecticut. Adolfas was with him. They got out of the jam when "Barbara" called her brother in law, the state Attorney General. Jonas says they didn't know Barbara, but she followed them around all day. (This "Barbara" may be Barbara Rubin.)
I Seem To Live, vol. 1,, pg. 235
Unclear when "the group" first met, but on Sep 28, 1960, Jonas gets them to agree to vote to become the New American Cinema Group.
I Seem To Live, vol. 1, pg. 255
Early Dec. 1960, Jonas finishes filming Guns of the Trees and begins editing.
I Seem To Live, vol. 1, pg. 283
1961
Age: 38
Jonas finishes editing Guns of the Trees.
The Scene, pg. 174
Cinema 16 screens Guns of the Trees.
To Free The Cinema, pg. 7
The First Statement of "The Group" formed by Jonas is published in Film Culture 22-23. Members of "The Group" include Lionel Rogosin, Peter Bogdanovich, Robert Frank, Alfred Leslie, Shirley Clarke, Gregory Markopoulos, Edward Bland, Ben Carruthers, Argus Speare Julliard, Emile de Antonio, Lewis Allen, Daniel Talbot, Walter Gutman and David Stone.
To Free The Cinema, pg. 9
1962
Age: 39
Guns of the Trees wins first prize at the Second International Free Cinema Festival at Porretta, Terme, Italy.
The Scene, pg. 174
To Free The Cinema, pg. 9
The Film-Makers' Cooperative is formally established in 1962, partly because Amos Vogel's Cinema 16 refuses to distribute Stan Brakhage's Anticipation of the Night. The Cooperative is located at 175 Lexington Avenue. To Free the Cinema describes this even as the Cooperative "comes into being" on January 18.
The Scene, pgs. 164, 174
To Free The Cinema, pg. 10
1963
Age: 40
Jonas and Adolfas both work on Hallelujah the Hills through most of the year.
The Scene, pg. 176
Jonas's screening series moves to the Gramercy Arts.
To Free The Cinema, pg. 10
In December; Jonas, P. Adams Sitney, and Barbara Rubin bring several American underground films to screen at the Third International Experimental Film Competition at Knokke-le-Zoute, Belgium, including Jack Smith's Flaming Creatures, which causes a scandal when the judges refused to screen it publicly.
The Scene, pg. 178
To Free The Cinema, pg. 11
1964
Age: 41
On February 15, police issue a summons to the owner of the Gramercy Arts Theatre due to Jonas screening there the "obscene" film Flaming Creatures. The theater abruptly cancels all underground film screenings. On March 3, Jonas again screens Flaming Creatures at the New Bowery Theatre on St. Mark's Place where he and the entire audience is arrested. A week later, Jonas is arrested again for screening Jean Genet's Un Chant d'Amour at the Writers' Stage on East Fourth Street.
The Scene, pg. 179
To Free The Cinema, pg. 11
A few days before March 3, Jonas films a production of Kenneth Brown's play The Brig by the Living Theatre.
The Scene, pg. 180
In July, Jonas acts as cameraman on Andy Warhol's Empire.
The Scene, pg. 182
In November, Jonas starts the Film-Makers' Cinematheque screening series at the New Yorker Theatre at Broadway and West Eighty-eighth Street. It moves a month later to the Maidman on West Forty-second Street. Then it moves to the City Hall Cinema at 170 Nassau Street; then to the Astor Place Playhouse on Lafayette Street; and then to the 41st Street Theatre near Sixth Avenue.
The Scene, pg. 183
To Free The Cinema, pg. 11
1965
Age: 42
The Brig wins the Best Documentary Award at the Venice Film Festival.
The Scene, pg. 180
1966
Age: 43
Jonas, Shirley Clarke, and Lionel Rogosin create the Film-Makers' Distribution Center, which is set up to distribute underground films that may have breakthrough commercial success, such as Andy Warhol's Chelsea Girls. The Distribution Center is a separate branch of the Film-Makers' Cooperative.
The Scene, pgs. 185-186
In June, the Philadelphia College of Art honors Jonas for his "devotion, passion, and selfless dedication to the rediscovery of the newest art."
The Scene, pg. 186
1967
Age: 44
In the summer, Jonas and others transform the ground floor of 80 Wooster Street in NYC's SoHo neighborhood into a small theater. The building had been purchased by Jonas's Lithuanian artist friend George Maciunas with a $20,000 foundation grant as a place for low-cost housing for artists. This new Cinematheque opens in December. (To Free the Cinema places the opening in 1968; and writes that police harassment shuts it down almost immediately.)
The Scene, pg. 187
To Free The Cinema, pg. 12
1968
Age: 45
Six months after the Cinematheque opens, it is forced to close down because Jonas could not get the proper licenses to run a theater at that location.
The Scene, pg. 188
Jonas, Jerome Hill, and Allan Masur establish the Film Art Fund for the purpose of creating the first ever film museum, to be called the Anthology Film Archives.
The Scene, pg. 189
1969
Age: 46
Diaries, Notes, and Sketches is finished.
The Scene, pg. 161
1970
Age: 47
Jonas voluntarily closes down the Film-Makers' Distribution Center due to a city marshall threatening to shut down both the Distribution Center and the Cooperative to settle a judgement to a theater owner the organizations owed money to. Jonas assumes all of the Distribution Center's debts to keep the Cooperative's operations going.
The Scene, pg. 188
In December, the Anthology Film Archives opens within Joseph Papp's Public Theatre on Lafayette St. in the old Astor Library building. (To Free the Cinema gives the specific date of December 1 of the Anthology opening.)
The Scene, pg. 189
To Free The Cinema, pg. 13
1971
Age: 48
Jonas's collected poems are published in Lithuania for the first time. The collection spans four volumes.
The Scene, pg. 193
1972
Age: 49
Reminiscences of a Journey to Lithuania is shown at the New York Film Festival.
The Scene, pg. 164
1974
Age: 51
The Anthology Film Archives relocates to 80 Wooster Street. To Free the Cinema notes that this happens after the death of the Anthology's biggest sponsor, Jerome Hill.
The Scene, pg. 190
To Free The Cinema, pg. 13