The Interrupters Gets Theatrical Release This Summer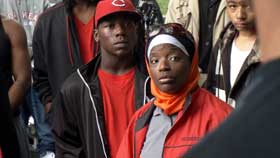 Kartemquin Films has announced that The Cinema Guild will be distributing the Steve James directed documentary The Interrupters nationally this summer. The theatrical run will begin in NYC at the IFC Center on July 29 and will roll out to other cities such as Los Angeles, Denver, Portland, San Francisco, Boston, Atlanta and more throughout August, September and October.
Most significantly, though, the film will screen at several theaters in Chicago. First, it will screen at the Gene Siskel Film Center beginning on August 12 and then open at the ICE Chatham and ICE Lawndale theaters beginning on August 26.
The film chronicles a year in the life of the Windy City, a particularly tragic year in which violence, mostly amongst young African-American men, ran rampant. James ensconced himself with an innovative activist group called CeaseFire that sends out "violence interrupters" who attempt to defuse highly volatile situations before they escalate into brutality and death.
The three main violence interrupters that the film follows are Ameena Matthews, a Muslim woman whose father is a notorious gang leader; Cobe Williams, an ex-con and young father determined to make a better world for his son; and Eddie Bocanegra, a repentant murderer.
The Interrupters has been one of the most acclaimed documentaries of the year on the festival circuit so far, making its World Premiere at Sundance and winning awards at Philadelphia Cinefest, the Full Frame Film Festival and the True/False Film Festival.
Below is the full list of cities and dates the film will be playing. And below that is the film's trailer.
July 29: New York (IFC Center)
August 5: New York (Maysles Cinema)
August 12: Chicago (Siskel Film Center), United Kingdom (various cities).
August 26: Chicago (ICE Chatham and ICE Lawndale), Los Angeles, Denver, Portland
September 2: San Francisco, Berkeley
September 9: Philadelphia, Seattle, St. Louis
September 16: Washington D.C., Boston
September 23: Minneapolis
October 7: Atlanta