The Future Of Australian Horror?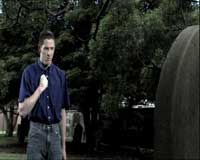 Over on his blog Idea Fix, Melbourne Underground Film Festival director Richard Wolstencroft has been issuing dispatches from the Revelation Perth International Film Festival, which is being held right now in Perth, Australia. Here's Part One and Part Two.
But the highlight is Part Three in which Wolstencroft recounts his participation in the Day of Horror forum panel discussion. For everybody who reads Richard's blog regularly, they know that he's been banging the drum loudly — with a sledgehammer — for the Australian film industry to produce more hard-edged genre films rather than the mamby-pamby flicks like Romulus, My Father and Hey Hey It's Esther Blueberger. The former of which tanked at the U.S. box office and the latter hasn't played here at all yet, if ever.
Australian films don't seem to do that well at home either and Richard has been arguing that in influx of some horror blood into the mix will revive the stagnant film industry Down Under. The two examples Richard likes to throw out are Gabriel and Black Water, which both did well at the Aussie box office and in other countries, but neither were released theatrically in the U.S. Greg Mclean's Rogue also tanked in the U.S., but his previous film, the slasher flick Wolf Creek, made several million here and at home and beat out Romulus all around.
It's hard for me to do full B.O. comparisons since I'm having trouble finding numbers for the non-U.S. releases, but using Wolf Creek vs. Romulus as a template would seem to bolster Wolstencroft's argument. (And as an aside, I think Rogue's poor performance here had more to do with the turd Primeval, which was released first, scaring Dimension — under their Third Rail banner — from doing a full release of a second giant crocodile movie in one year. Same with Black Water.) Numbers aside — which is always a dreary business — a couple more Mad Maxes would probably invigorate more filmmakers than more Danny Deckchairs.
Wolstencroft goes on to recommend that underground filmmakers Bill Mousoulis, Jon Hewitt and Mark Savage get projects financed by Screen Australia, the government arm that funds the film industry Down Under. All are MUFF alumni, of course, but neither Mousoulis nor Hewitt have their work available even on DVD in the States, while Savage has had some of his films released by Subversive Cinema. So, I can't speak to their work from a personal level.
However, in the past couple of months I've seen two very interesting Australian horror shorts made by two filmmakers I think would do well with some money for a feature.
First, there is Kenta McGrath's Welcome to Pipe Mountain, which did play MUFF last year and which I did a long-ish review for here. This isn't a horror movie in a traditional vein (har har), but is more of an unsettling drama. It's a very accomplished film from some young filmmakers whose quiet, measured tone and pacing reminded me somewhat of fellow Australian Ray Lawrence's Lantana, even though Pipe Mountain is much darker and has a more surreal edge than Lantana's hard-nosed noirish realism.
The other is Dalibor Bakovic's The Ancient Rite of Cory McGillis (pictured above). I've seen this film and will have some brief notes on it in an upcoming post in regards to a special upcoming screening. The film actually just played Perth International where Richard has raved about it in one of his dispatches. I enjoyed it and have found it to be a film that has stuck with me over the past several days since I watched it. On the one hand, this is a very traditional horror flick, but it also has a very modern edge with, like Pipe Mountain, a very realistic, deliberate tone and pacing.
So maybe these kinds of films are the future of Australian horror and the future of Australian cinema in general like Wolstencroft calls for: Films that still have somewhat of a traditional feel to them while displaying a modern, dark sensibility whether it has outright horror elements like Cory McGillis or just a subtle flavor like Pipe Mountain.