The Fixer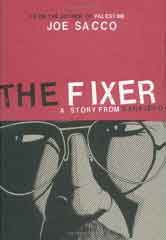 I always tried to understand the Bosnian war. I read Joe Sacco's previous book, Safe Area Gorazde
, as well as Michael Parenti's To Kill a Nation
, plus I was a subscriber to In These Times during most of the conflict and tried to stay up on the news in general as best I could.
But I never felt like I ever got a real clear handle on the conflict: A situation that hasn't changed, and may have increased, since recently reading Sacco's last book on the subject, The Fixer
(published in 2003).
For much of this work of "comics journalism," Sacco frames the story like an old EC war comic. He frequently implores the reader to "put yourself in Neven's shoes," Neven being a former soldier in the Serb army (I think) who now provides various services to visiting journalists.
Sacco meets Neven in a bombed out Holiday Inn lobby in 1995. It's Sacco's job to find good stories about the war. And Neven has lots of them to sell. The trouble of this arrangement is instantly obvious even though Sacco doesn't bring attention to it. Since the best war stories are usually the most outrageous ones, it's pretty clear that most of what Neven is selling is probably a big steaming pile of horseshit.
But Sacco gobbles it all up, either through willful ignorance, guilt or he just doesn't share his full range of opinions with the reader. He lets Neven act as an unreliable narrator without passing judgement on his guide himself.
Neven tells Sacco wild tales of the war as well as some bizarre tale of tangling with mobsters in Los Angeles. Back in Sarajevo, Neven recounts his days of working with various Bosnian warlords who are fighting for something, but it's never exactly clear what's going on and who's working for who. Some of the warlords supposedly work with government officials, but they mostly seem to be taking advantage of the chaos of the war for no other reason than it makes small men feel big.
And the man who wants to feel the biggest is Neven who puts himself one step ahead of the warlords and tells stories of improbable courage, military strategy and crackshot marksmanship. During Sacco's first encounter with his guide and mentor, Neven cries out "Can you imagine the sort of movie that could be made about wild fucking bastards like me?" So we see very clearly Neven's ultimate goal: To be seen as a character in an American action movie.
But Neven also comes across as being extremely likeable. He's chatty and friendly as long as you put up with his wild tales. And if his adventures don't have the ring of truth to them, they're at least vastly entertaining.
Buy The Fixer at Amazon.com!