The Devil's Muse In Halo 8 Festival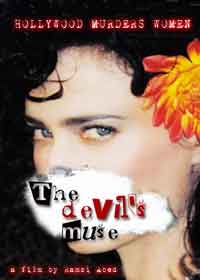 Ramzi Abed's The Devil's Muse, the thriller about an aspiring actress obsessed with the Black Dahlia and the serial killer who wants to mutilate and cut her in half, is having a week-long run in Los Angeles at the Engine Theater from Oct. 23-29 as part of Halo 8's "Films That Kill" festival. Abed's horror-flavored flick will be screening every night at 9 p.m. Given the film's Hollywood setting, it's appropriate that it will be playing just a few steps off of Hollywood Blvd. at 1636 Wilcox Ave. I reviewed the film on the Underground Film Journal here.
Halo 8 is the underground DVD distributor started by Matt Pizzolo, who, in true punk rock fashion, started his own distribution company to release his film Threat, which played on the underground film festival circuit in 2006 and 2007. Since then Pizzolo's gone on to release a slew of other folks' horror flicks, documentaries and even punk influenced exercise and cooking videos. The company is also branching out and publishing a line of similarly themed comic books.
The "Films That Kill" festival will be screening the same seven Halo 8 releases every day between 3:00 and 10:30 p.m. The full lineup is listed below. Also, tonight (the 23rd), there will be an Opening Night party featuring a live performance of songs from the Devil's Muse soundtrack by Ego Plum and legendary indie musician David J (Bauhaus, Love and Rockets). In addition, there will be the World Premiere of Slumber Party Slaughterhouse: The Game hosted by porn star Joanna Angel. Go and get your free beer, wine and zombie makeup.
Personally, I won't be going to the opening festivities, but I plan on checking out some of the earlier screening films during the festival run. I'm mostly interested in seeing Threat, and I thoroughly recommend The Devil's Muse. It's a good movie to get you in the mood for Halloween in Hollywood. It's real dark and spooky and features a terrific performance — although in a semi-small role — by the late Gidget Gein, who sadly passed away recently.
I'm also really interested in checking out the special Engine Theater projection system, which looks fascinating. Check out the pictures on the theater's official website.
Here's the full "Films That Kill" lineup. For descriptions of the films, you can always visit the Halo 8 website.
Oct. 23-29:
3:00 p.m.: N.Y.H.C., dir. Frank Pavich
4:30 p.m.: Threat, dir. Matt Pizzolo
6:00 p.m.: Punk Rock Holocaust 2, dir. Doug Sakmann
7:30 p.m.: Gimme Skelter, dir. Scott Phillips
9:00 p.m.: The Devil's Muse, dir. Ramzi Abed
10:30 p.m.: Pink Eye, dir. James Tucker
12:00 a.m.: Slumber Party Slaughterhouse: The Game
And here's a clip from The Devil's Muse: