The Dark Tower VII: The Dark Tower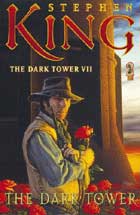 Stephen King asks for a lot. Including Afterwords, Introductions and Robert Browning's original poem the Dark Tower series was inspired by, the books' grand total length is something close to (or over) 4,000 pages. Personally, I've been reading the series off and on since August last year with The Gunslinger, which is much less than the 30 years it took King to write his saga, but that's a fairly large committment he asks of his readers. So you'd hope the Dark Tower would be some of the best damn books ever written.
When I undertake marathon kind of things like this, or like attending every movie possible at the New York Underground Film Festival, I do have to stop and wonder why I undertook such a challenge. At first it feels like it'll be a fun thing to do, but after awhile I get into the mindset that I have to finish the task just because I told myself I was going to do it.
Of course, knowing myself, I'm predisposed to know how stories end–whether a book, movie or comic series–no matter what. So, as soon as I picked up The Gunslinger I would be forced to get to the end just to see what was at the top of the tower when Roland reached it. And no fair jumping to the last couple pages without reading every single one that came before it. My brain isn't built that way.
But I did finally finish the final monstrous installment and feel like I have to answer the big question first: Was it worth it? Well, yeah and no.
Overall, the books are a very entertaining read. King has created a fascinating alternate fantasy world and populated it with interesting characters to explore it for us. I wasn't even that disturbed when King wrote himself into the books, a device I'm usually very resistant to. Probably my biggest complaint is that the series is so long. There's really way too many sequences where the characters simply sit around either discussing their current predicament or plan out their future actions that slows the action to a crawl. Because when the action sequences do kick in, they kick ass.
Book VII: The Dark Tower is probably the most action filled in the entire series, finishing the twin cliffhangers of the previous book in dramatic and bloody fashion before moving onto the main characters reaching their penultimate goal, then one last journey to the "real" world, meeting their last vicious villain and finally reaching their final destination. King could have taken it easy in this book, ending it much sooner than it does, but instead he piles complication and tragedy onto each other before the Tower eventually appears on the horizon.
The other big question is, of course, is it a satisfying ending? I think so. There's a bit of a deus ex machina about the final chapter, but the last few pages do offer what I think is the only conclusion the series could have.
And now that I'm done, I'm feeling a little bit of "What next?" like I did when I caught up to the last Harry Potter book. I've spent so much time with these characters, I would think I should be sick of them. But I'm a little sad that I've reached the end of their journey. As for the real answer to "What next?": Stephen King's new book Cell
. Look for a review here in a couple weeks.
Buy The Dark Tower VII: The Dark Tower at Amazon.com!