The Dark Tower III: The Waste Lands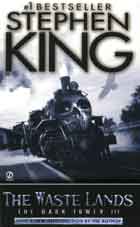 So far, this has probably been the most aggravating book in the Dark Tower saga. Not to say it was bad, but it was the one I had the most problems with.
My main criticism is that the first third of the book has way too much recapping of the previous two books, to the point I found myself skipping pretty much whole pages, which I never do when I'm reading anything.
Sure, if I were reading this series in the actual timespan that the books were published, I may have appreciated a healthy recollection of what went on before. But since it's been only about a month since I finished The Gunslinger and The Drawing of the Three, reading a constant reminder of what happened in them thoroughly annoyed me. I didn't have that problem with the Harry Potter books, which I read in a relative short period of time. Rowling knew how to insert lame rehashing exposition in just a sentence or two.
Then, the book ends right in the middle of an adventure. Hopefully the next time I go to the library they'll have Book IV so I can get the conclusion relatively soon, but it was out the last time I was there. I tried signing out both III and IV together, but I didn't have any luck, which I'm really pissed about now.
However, the middle part of The Waste Lands is a thrilling and exciting adventure filled with monsters, freaks and other creepy crawlies that are the meat and potatoes of the Dark Tower saga. It takes a long time before Roland and his companions make it to the doomed city of Lud, but it's worth the wait. So far it's the most interesting location we've been to in Roland's world and crammed with danger and nightmares around every turn.
I only wish the beginning chapters of the book were shortened to accomodate a longer stay in Lud and to have allowed a more satisfying ending. Regardless, I'm still marching forward to the end of the entire saga. King hasn't lost me completely yet.
Finally, if you haven't heard yet, news broke last week that Stephen King is creating an original Dark Tower adventure for Marvel Comics to be published in serial form next year then collected into a graphic novel. Details of the plot are kind of sketchy, but I believe the story will take place prior to the events in the official saga. To find out more and see some preliminary artwork you can go to Marvel's website.
Buy this book on Amazon.com!
Stephen King, Dark Tower, Novel, Books