The Dark Tower I: The Gunslinger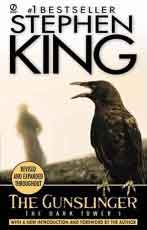 While waiting for the next book I need to read in the Harry Potter saga (The Goblet of Fire) to become available at the library, I decided to start another epic series: Stephen King's The Dark Tower. I had been searching the library for awhile to find the first in the series. All the others seemed easily available, but the first installment, The Gunslinger, I was to find out was filed in one of the disorganized paperback spinner racks.
So, was the book worth the search? Yes and no. In the introduction to this edition, King acknowledges that even he knows that not much happens, but if you can get through it he promises the rest of the series will be killer. The first part of that statement, I know now, is true. Not much does happen in The Gunslinger. We're introduced to the main character, Roland, who searches the American Old West for a villain known only as The Man in Black–and no it's not Johnny Cash.
Except, it's not quite the Old West, but some sort of parallel dimension that resembles it. There are also flashbacks to Roland's childhood training to become a gunslinger, which is a complete fantasy world that is almost Medieval, as well as one character who comes from modern day New York City and who may very well be dead.
These first chapters were written by a young Stephen King and some of the ideas infused throughout the book sound as if they were conceived under the influence. One of the concepts of the universe explained in the final section reminded me of the scene in Animal House where the students get high with their professor. Although I'm pretty sure The Gunslinger was written several years before the film.
There's enough in The Gunslinger where I am intrigued to continue on to the next, which I checked out at the same time and will start shortly. The book isn't so much a horror novel, but it is infused with several creepy flourishes, including Roland's dramatic showdown with the doomed town of Tull and his encounters with demons, oracles and other nasties. I am a tad anxious, though not eager, to read Part II. Mainly just to see if King fulfills his promise to amp up the action and drama.
Buy this book on Amazon.com!