The Complete Beaver Kid
Finally, filmmaker Trent Harris has made available his complete underground cult classic The Beaver Kid, the first part of his mind-blowing Beaver Trilogy. It's been uploaded to YouTube in 3 parts, the first part of which is above and the other two below. Witness the amazement and wonder that is the late, the great, the beloved Groovin' Gary who loves his little town of Beaver, Utah so much that he's willing to bare his soul and dress up like Olivia Newton John in a local talent show he's organized.
It was kismet the day Harris, a Salt Lake City news cameraman at the time, ran into the man known only as Groovin' Gary, who was so bursting with small-town pride that he invited his new friend to record a local talent show at which he would be the big star. (But who can also forget the Kessler sisters, Kristy Erickson and the woman who speaks out of both sides of her mouth.)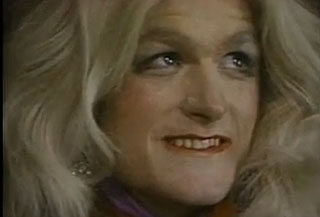 The talent show would never make it to the airwaves, but they were all eventually immortalized in Harris' documentary that includes his initial meeting with Gary, then Gary being made up to look like Olivia Newton John by the local morgue make-up artist, then concluding with the blowout talent show. But then, there's that odd Barry Manilow impersonation coda, an attempted "do-over" after Gary was ridiculed by some of the townsfolk he loved so much for dressing up like a lady for TV. (That all happened off-camera and is explored in Harris' fictional retelling called The Orkly Kid starring Crispin Glover.)
Groovin' Gary shuffled off this mortal coil in Feb. 2009, but his legacy lives on in Harris' charming, heart-warming and endearing documentary. And as wonderful as it is that Harris has put Gary's story online, you can also buy a DVD version of The Beaver Trilogy, which includes the above video and its two fictional follow-ups from Mr. Harris himself. Do yourself a favor and get it. It's truly a staggering piece of work.