Taylor Mead, R.I.P.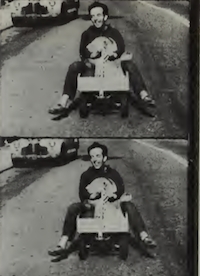 It's being reported around the Internet today that underground film actor and poet Taylor Mead has passed away at the age of 88 after suffering a debilitating stroke. Mead famously starred in underground classics such as The Flower Thief (1960), Tarzan and Jane Regained.. Sort of (1963) and Ecstasy in Entropy (2000).
Although Mead will probably be most remembered for starring in numerous films by pop artist Andy Warhol, he got his film acting start in Ron Rice's The Flower Thief (1960). Rice and fellow filmmaker Vernon Zimmerman met Mead at a San Francisco poetry reading and both cast him immediately in their productions. After The Flower Thief, Mead appeared in Zimmerman's Lemon Hearts (1960-61).
Mead also appeared in Adolfas Mekas' comedy Hallelujah the Hills (1963) and starred in Rice's The Queen of Sheba Meets the Atom Man (1963) before famously pairing up with Warhol for Tarzan and Jane Regained… Sort of (1963). He would go on to appear in numerous Warhol productions, including Nude Restaurant (1968), Imitation of Christ (1968) and the infamous Lonesome Cowboys (1967). He also starred as the President of the United States in Robert Downey, Sr.'s early feature Babo 73 (1964) and appeared in the mainstream classic Midnight Cowboy (1969).
He then continued to act in several less well-known underground films throughout the '70s, '80s and '90s, such as Eric Mitchell's Underground U.S.A. (1980) and appear in small parts in NYC-based low budget indie films. Plus, thanks to the association with Warhol, Mead became a regular interviewee in the ubiquitous documentaries about the late pop artist and his cohorts, such as Superstar: The Life and Times of Andy Warhol (1990), Pie in the Sky: The Brigid Berlin Story (2000), Beautiful Darling (2010) and even Excavating Taylor Mead (2005). Mead also appeared in several productions by notorious Cinema of Transgression filmmaker Nick Zedd, including Ecstasy in Entropy (2000) and the Electra Elf TV show.
After leaving the West Coast and becoming an indelible fixture in the New York City film, art and poetry scenes, Mead was recently forced to leave his beloved Lower East Side due to a conflict with a developer rehabbing the tenement building where Mead had lived for decades. Mead passed away in Colorado where he was living with or near family.
(Filmstrip from The Flower Thief above taken from Sheldon Renan's An Introduction to the American Underground Film.)