Tarantino: A Fool's Game
In honor of Quentin Tarantino's Inglorious Basterds opening this week, I'm posting up the notorious underground classic Who Do You Think You're Fooling? by Mike White, the Michigan filmmaker and publisher of the legendary Cashiers du Cinemart zine.
Produced in 1993, Who Do You Think You're Fooling? compares scenes from Ringo Lam's 1987 Hong Kong action film City on Fire with Tarantino's first film Reservoir Dogs. As White undoubtedly proves, the entire set-up for Reservoir Dogs came from City on Fire with Tarantino also directly "paying homage," i.e. recreating, several scenes from Lam's film.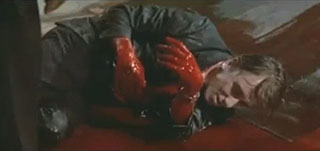 White originally sold his 10-minute short film on VHS tapes through Cashiers du Cinemart to little recognition beyond the zine's readership. However, in 1995, Who Do You Think You're Fooling? was accepted into the 2nd annual New York Underground Film Festival when it was being co-run by filmmakers Todd Phillips and Andrew Gurland.
As thoroughly documented on White's website, Phillips and Gurland initially threw their full promotional weight behind White's film, but between the time of acceptance and the actual festival the relationship between the festival directors and the film director soured. It's unclear what really happened. At the time, Phillips claimed that Miramax was pressuring NYUFF to not screen the film. However, later in a Premiere magazine article, it was reported that it was only Gurland who planted false rumors about Miramax hassling NYUFF without Phillips' knowledge. White doesn't think that's true. However, what's also interesting is that at the same time they were running NYUFF, Phillips and Gurland had another online marketing business that had Miramax as a client.
Although NYUFF treated White like a second class citizen, his film's acceptance into the fest launched a mini-media firestorm. Again, as thoroughly documented by White, Who Do You Think You're Fooling? received mentions in Variety, the New York Post, the LA Weekly, on MTV and in other outlets.
Sadly, there's no online record of what else screened at the 1995 NYUFF. White briefly references a film called Raging Boil that played at the fest, but doesn't name the director. In a 2009 Village Voice article, Ed Halter mentions some films he saw at the fest, including Helen Stickler's Andre the Giant Has a Posse and Suki Hawley and Michael Galinsky's Half-Cocked, as well as a John Waters retrospective, although he doesn't mention exactly which films screened for that. As a result of attending that festival, Halter was invited by Phillips and Gurland to become a programmer and would take over the festival from them in 1998.
In early 2010, Atomic Books will be publishing a Cashiers du Cinemart compilation book that will include an "updated and severely rewritten" piece analyzing the whole Who Do You Think You're Fooling? controversy. Personally, as a longtime fan of the zine, I'm very excited to see the book. And if you want to read a newish profile on White, here's an excellent article in Detroit's Metro Times.