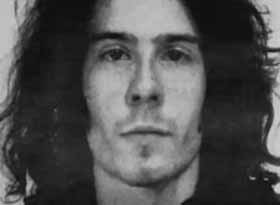 Owen Land, fka George Landow, was an American experimental filmmaker. One of the more confounding figures in the underground film scene, his personal history — such as his name change — is complex and borderline mysterious. He passed away on June 8, 2011.
Born in 1944 in New Haven, Connecticut, George Landow began his filmmaking career in high school with 2 films, including Faulty Pronoun Reference, Comparison and Punctuation of the Participle Phrase. By the late 1960s, he was studying art at the Pratt Institute in Brooklyn, New York.
In 1969, film scholar P. Adams Sitney included Landow in a group of emerging "Structuralist" filmmakers that included Tony Conrad, Paul Sharits, Joyce Wieland, Ernie Gehr and Michael Snow. Many of these filmmakers rejected this categorization; and in 1978, Landow himself said he considered himself an "experimental filmmaker." He also described the arc of his career at that point as having evolved from primarily visual concerns to more literary ones.
Land's early films, such as Film In Which There Appear Sprocket Holes, Edge Lettering, Dirt Particles, Etc. (1965-1966), consist solely of repetitive film loop optical printing; which then grew into more complex interactions between film and audience, such as Remedial Reading Comprehension (1971). He also described his work as being autobiographical and as being intentionally provocative.
Many references to his personal life include a fascination with religion, such as converting to Messianic Judaism in 1968. He also taught at a number of schools, including being a visiting faculty at Hampshire College in 1975 and teaching film production at the School of the Art Institute of Chicago, Northwestern University, San Francisco Art Institute, and Art Center College of Design, Pasadena California. (Years at each school unconfirmed as of this writing.)
Film curator Mark Webber, who was close to Land in his later years, says that Land "vanished" in 1999 and was thought to be dead. In truth, Land had suffered a debilitating stroke, but returned to filmmaking with Dialogues, with which he had an antagonistic relationship with his young Hollywood crew, documented in the film In the Land of Owen.
It was also sometime in the late 1970s that Landow changed his name to Owen Land. Most film texts refer to him as "George Landow," even after his name change, while online he can be found under both names. The circumstances surrounding his death are unknown as of this writing.